Check the Mediafire Android App as the best Dropbox Alternative for Android Phones/Tablets providing 50 GB free cloud storage.
You surely would have heard of Mediafire site which allows online storage of files for everyone free. Infact it's the best in business. And finally being a popular platform, it has come up with free online backup and upload to cloud storage. This time its huge beating Dropbox, box.net & other cloud storage services to offer 50 GB of free cloud storage. So with that you have a large number of digital files can be accessed for any location right on to the device in your hand.
MediaFire Android App
So just like Google Drive or Dropbox, you need to login to your account and whatever file you need to access, you can directly save a copy on your phone or tablet and upload it back to preserve the changes done. So until now I was using Mediafire website to save data up to 2 GB maximum but see here what you see, its 50 GB up for grab for any user for free. This really is a crazy stuff, but it's real.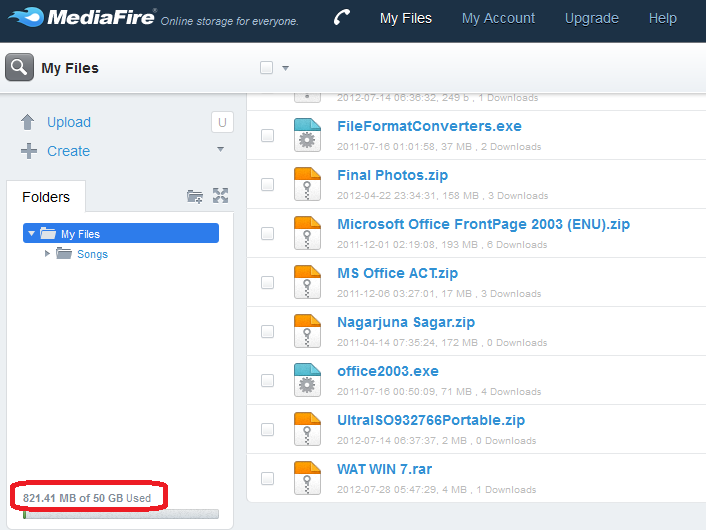 So got an Android phone or tablet PC? Then this application is a must try on your device. For whoever interested in Mediafire 50 Gb free cloud storage should sign up with browser site and should have a verified account to start using it on your phone as app. So you can now backup all of your photos, videos instead of backing up the selected ones with other services which provides 2 GB or 5 Gb because 50 Gb is huge.
Although 50 GB sound too big but there are also certain sharing and uploading limitations such as you can't upload a file size which is 200 Mb and higher. This limit is waived off for pro account user charging $18 per year.
With this move from MediaFire, we might soon see Dropbox increasing the storage limit to atleast 10 GB or 20 Gb. What do you think of MediaFire as an Android app?
Android App Rating – 4 / 5
Download Media Fire for Android phones now