Micromax has promised that they will deliver the Android 4.1 Jelly Bean update to their second best smartphone called Micromax A110 Canvas 2. The successor of Canvas phone is still in demand. And finally the promise of Micromax has come alive as the Jelly Bean update is rolling out officially. Micromax is also providing this update via their service centers exclusively since most of the users are new to Android ecology. So for those users who are new to Android, we recommend them to go at nearest Micromax Service center and get your phone updated.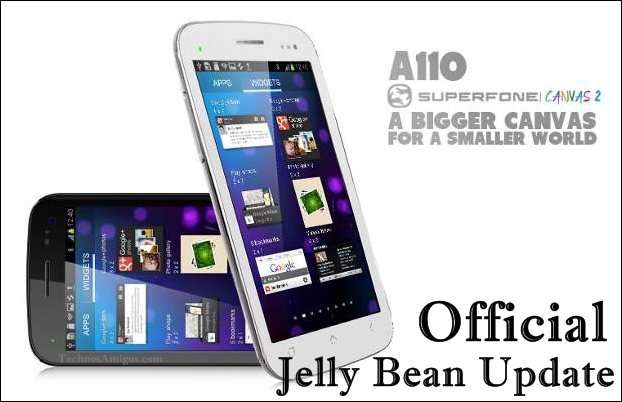 Just like the previous V2 version, Micromax has release the V3 update for Micromax A110 smartphone. Unlike all the updates which are available via Over the Air update or via PC Companion tool, this update is using the Smart Phone Flash Tool. Now that looks like something official by Micromax although no words have been said by Micromax on that.
Pre Upgrade Instructions
Although not necessary but we will go through pre upgrade instructions mentioned here -
Take backup of your phone by the way you are doing until now. The contacts are backed automatically to associated Google Account, so you need to backup SMS, Call Logs and Apps.
Charge your phone to a minimum of 50 % battery life.
Ensure that USB debugging is enabled on your phone. You can enable it by going through Menu > Settings > Applications > Development > USB Debugging.
Its advised to remove external SD card for safety reasons.
Micromax A110 USB Drivers: In this guide we will be connecting your phone to the PC using the USB cable. So it's required that you should have proper USB drivers installed on your PC. If you haven't installed, you can do it by downloading. USB Drivers 1, USB Drivers 2.(Username & Password are Mxlive & [email protected])
Disclaimer: And finally for those are updating with this version, you should be informed that this is an official release from Micromax although all things should be done from the user end. We shouldn't be held any liabilities or claims.
What Things are Required
For updating your phone you should have the original USB cable which came along with Canvas 2 phone. Secondly for obvious reasons you need to have a PC and Micromax A110 Canvas 2 phone.
Update Instructions

Its advised that you follow the pre upgrade instructions mentioned above and then proceed with the update procedure mentioned here. The update instructions are mentioned here, make sure you follow them correctly or else your update will not be successful -
Step 1: I have actually given the direct download link to download the update package. Download S9081_MP_F4.1_B1_IN_MMX_1.10.rar file on your computer. This file size is of around 282 MB in size and make sure that you have downloaded it correctly without any interruption.(Username and Password are Mxlive & [email protected]).
Step 2: Unzip the downloaded rar file on your PC you will get different files.
Step 3: Also download SP Flash Tool which is flashing tool required to update your Canvas 2 phone.
Step 4: Unzip the SP Flash Tool RAR file and install it on your PC. This is how it should look like -
Step 5: Click on Scatter-loading, then choose MT6573_Android_scatter_emmc.txt which is inside S9081_MP_F4.1_B1_IN_MMX_1.10.rar file(File downloaded in Step 1).
Step 6: Wait for the files to be added to the flash tool. The following files seen below image would be added -
Step 7: In Flash Tool go to Options from menu bar and select USB Mode & tick USB Mode.(USB Mode is selected because we are updating the phone using the USB cable connected to your phone and PC)
Step 8: Also tick DA Download All > Speed > and then select High Speed.
Step 9: Then you need to click on Download button and ignore the warning message on your screen saying YES.
Step 10: On the other side Switch OFF your phone and then connect your phone using the USB cable to PC.
Step 11: Now Click on Firmware -> Upgrade and begin the process of upgrade. Shortcut can also be used i.e.,F8. Make sure that you don't interrupt process in the middle.
Step 12: The software would then be started downloading on your phone and flashing would be done. Green ring within a pop-up box will confirm the successful update process.
Step 13: Now close the SP flash tool and disconnect your phone from USB connected to your PC.
Finally if your phone doesn't turn up for more than 5 minutes, then you can remove your phone battery and then re-insert. Try it out now!
Finally head to Settings > About Phone and check the Android version, it should be Android 4.1.1. Interestingly internal storage has been increased to 1.5 GB after updating.
We have a question, why doesn't Micromax come up with OTA update rather than update process mentioned above?