Micromax Canvas HD, we have written more articles about this smartphone than any other phone just because we want to let you know that this is the smartphone to buy this year. For those whose quest is for phablet phone or quad core phone or phone with HD video recording, Micromax Canvas HD is the phone packing up all those in one device. More importantly you would be interested to check out reasons why you should buy Micromax Canvas A116 HD phone and also compared with the earlier Canvas phones namely A110 vs A100.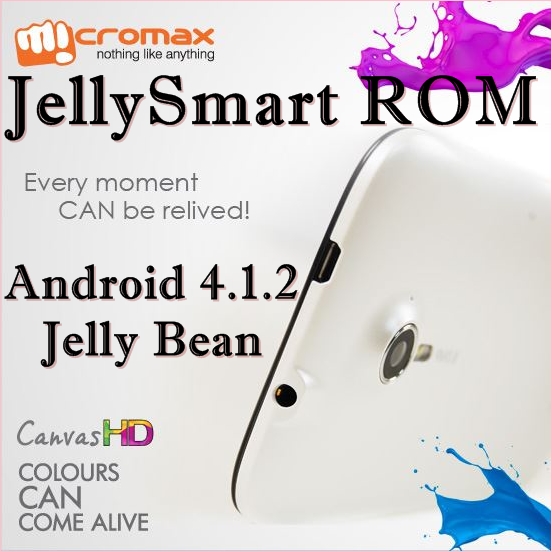 Now then, for those who are interested in doing more than just possessing this smartphone, we have come up with tutorial on how to install ClockWorkMod Recovery and rooting procedure. Here in this guide we go through the JellySmart a custom firmware available for Canvas HD phone. Incidentally this is first custom firmware available for A116 smartphone known as the JellySmart and it's based on the Android 4.1.2 Jelly Bean firmware. This JellySmart is very stable and smooth for you Canvas HD phone and here we have listed the JellySmart ROM features, update procedure with step by step guide.
One of the main reasons why you should update Canvas HD to Android 4.1.2 is because none of the Indian smartphone vendors every care for updating their device to the latest version except Lava Mobiles for their Xolo powered smartphones.
JellySmart Firmware Features & Improvements
The following are the features added in JellySmart firmware are –
Android 4.2 Launcher
New Clock
New Gmail app for improved performance
New Music app
New Android 4.2 Jelly Bean based keyboard
New 4.2 Jelly Bean base fonts
New Baseband
Auto Rotation bug fixed
Pre-rooted
Performance tweaks
Flipboard issue bug fixed
Net Speeds tweaks
No delay in making calls
More free RAM
Locked Launcher in memory
Enabled 270 degree rotation
Ziplagined and Deodexed
Fast boot
Flashlight intensity increased
Mega bass boost Mod added
Faster and Smoother
Removed Micromax Registration
Nano Editor Added
Added custom boot animation functionality
What's Not Working
M! Store app is not working
Its reported by users that music player is unable to install
Images & ScreenShots
Pre-Upgrade Instructions
Thinking to update, before you update you should follow these instructions –
Make sure that you have fully charged your phone. It's the very first step to ensure because you don't want to land up your phone in trouble of running out of battery during the process of updating.
You should have rooted your phone Micromax Canvas HD phone. This is required step as without rooting you can't install either CWM or any custom firmwares. We have provided the guide to Root Micromax A116 Canvas HD phone.
You should also have installed the ClockWorkMod Recovery on your phone which will replace the existing Recovery Mode. CWM Recovery makes the job easier and we have mentioned steps on how you can install CWM Recovery on Micromax A116 phone.
You should also ensure that USB debugging is enabled. This can be enabled by going through Menu > Settings > Applications > Development > USB debugging. See that it's ticked.
Since we would be connecting your phone to the PC using the USB cable, ensure that USB Drivers are installed perfectly on your PC. If not installed, download Micromax A116 Canvas HD USB Drivers and install it.
Disclaimer: Since this firmware is developed by third party developers, this can even brick your phone if you don't follow the instructions carefully. If you follow, you would be able to update your phone easily with any problems.
Micromax A116 Canvas HD Android 4.1.2 JellySmart Update
Here is the step by step guide to update your Canvas HD phone to Android 4.1.2 JellySmart ROM –
Ensuring that you have followed the above instructions, we would be first downloading JellySmart A116 Canvas HD ROM zip file. The total file size is 290 Mb.
Now connect your phone using the USB cable to the PC and then transfer the downloaded file to the root of your external/internal SD card.
Now disconnect the phone from PC and switch it OFF.
You need to turn ON your phone in the ClockWorkMod Recovery and this can be done by pressing the Volume UP + Volume Down and the Power button altogether at once. You will soon see the Micromax A116 logo and in the next screen choose the Recovery mode. For you information, in the recovery mode, the volume down and up keys are for navigating from one option to another and Power option is used to select the highlighted option.
It's advised to take backup of the existing ROM on your phone and this can be done by selecting "Backup and Restore" and then select "Back Current ROM".
In the recovery mode you need to first "Wipe Data/Factory Reset" and then followed with "Wipe Partition". This will delete the current ROM on your phone.
Now click on "Advanced" and then select "Dalvik Catche" to clear the Dalvik Cache and then "Battery State" clear.
Select "Install Zip from SDcard" and then navigate to the root of your SD card where you have stored the file. Select it and then click on Yes. Again as I mentioned you earlier, the Volume Down/Up keys are used to navigate and Power option is used to select.
Once flashing is done, you will we taken back to the CWM Recovery Menu.
Now go to "Advanced" and then hit "Fix Permissions" to fix all permissions.
Finally you need to hit "Reboot System Now" to get your phone in the normal mode. This time it will take 3-5 minutes for your phone to act accordingly to the new JellySmart based custom firmware settings. Don't worry it will boot up, if it doesn't remove the battery and re-insert it.
So with that you have updated your Micromax A116 Canvas HD Phone with the JellySmart based Android 4.1.2 Jelly Bean firmware. Do drop us a comment or share this article with your friends on Google +, Facebook or Twitter.