Micromax Canvas HD A116 is certainly higher than your expectations but there might be some issues surfaced while you are working on it. Some of them are sudden crashing of apps, Flip board apps gets crashed every time when it's launched and other issues. Here in this guide we should you few tips and tricks for your Micromax A116 Canvas HD to obtain better results.
Take Screenshot
A default Android property, you will be surprised to hear that Canvas HD can take screenshot of what's been displayed on your phone. Taking screenshot of your phone is quite useful and one of the best feature on Android phone. I might need not explain you how you can use these screenshot but I will certainly show you easy way to take screenshot on your Canvas HD phone. The procedure mentioned here neither requires rooting on your phone nor an app from Google Play.
Also Read - Micromax Canvas 4 Tips & Tricks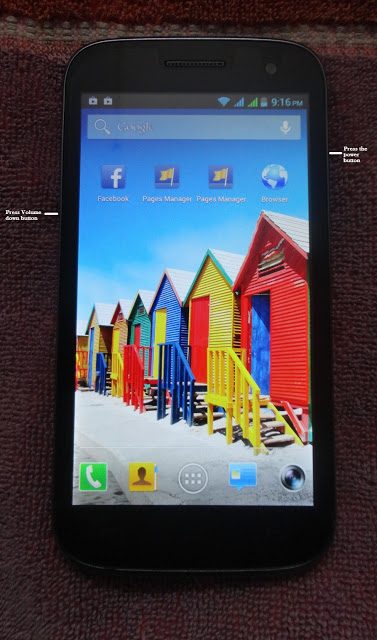 You need to press the Power Button, Volume Down button simultaneously for two seconds and you will see screenshot been taken. This screenshot is stored in internal memory of your phone.
Fixing Lags, Crash & Other Bugs
While you are facing issue on your Micromax A116, there is no official fix available for it by Micromax. Alternatively you can remove the app or reboot your phone if you are facing the issue of crashing, phone restarting automatically, Flipboard launcher crashes and other minor issues. Here is how you can restore to your phone to factory settings.
Power OFF your phone using the Power button.
You need to enter your phone in the recovery mode. This can be done by pressing the Volume Rocker keys (both Volume UP and Volume DOWN buttons) and also press the Power button simultaneously at once.
When you see Android icon, press the power button.
Navigate to recovery menu and then select the Factory Reset Option. Press Yes to continue.
Now just reboot your phone.
I hope this procedure will restore your phone to factory default.
Top 5 Android Games
While we talk about top 5 Android games for your Micromax A116 Canvas HD phone, it automatically means the top 5 Android games. The following are the top 5 free Android games –
Subway Surfers
Temple Run 2
3D NFC Racing Car
Angry Birds
Android Bike Race
More tips and tricks coming up. Stay tuned!