5-inch phablet are easily available in market. Whether you are comfortable holding the large screen phones or not, there has been considerable rise in people adopting to this large screen display devices. What more, flagship phones of top brands namely Samsung Galaxy S4, Sony XPeria Z, Micromax A116 Canvas HD all are with 5-inch display. These device have become quite common in the market we have compared few of the recently launched phablet devices.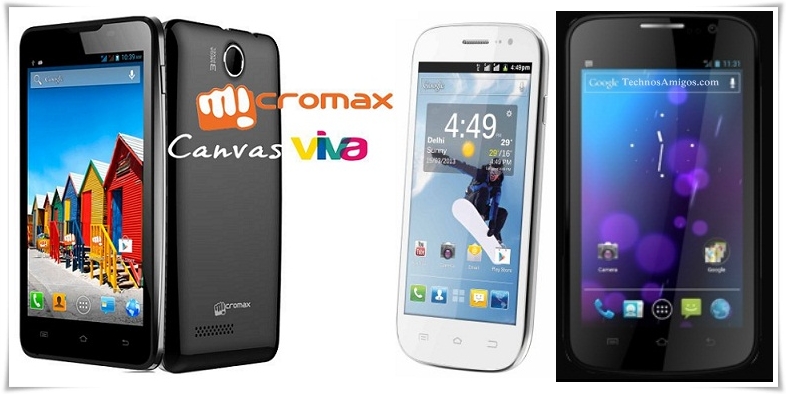 Quick Jump: Display | Hardware | Battery Life | Software | Camera | Storage | Conclusion
Micromax A72 Viva vs Byond B 67 vs Spice Smart Flo Pace 2
The common thing which has brought us to this comparison is because of the pricing and specs similarity. I hope you will make a clear choice in purchasing any one of these phones.
Looks & Feel
All the three Micromax Canvas Viva, Smart Flo Pace 2 comes with 5-inch 480 x 800 pixels touchscreen display. While Byond B67 thickness is not available right now, Spice phone here is with 9.6 mm and Canvas Viva is 10.6 mm thick.
Byond B67 is available in White/Black color options, Spice Pace 2 with Blue/White but only Black Color variant of Canvas Viva is sold in the market. All the three phones have adopted the same popular design form factor.
Hardware
All the three phone comes with 5-inches touchscreen display although there is significant difference when you come to processor comparison. While Spice Smart Flo and Byond B67 are with 1 Ghz dual core processor and Viva includes 1 Ghz single core processor. So non-Micromax phones here houses double speed. When it comes to RAM, Byond B67 includes 512 MB same as that of Micromax A72 and Spice Smart Flo is with 512 MB RAM.
Camera
Both Spice Smart Flo and Micromax Canvas Viva imaging hardware but Byond win in this battle. Micromax brings the 3 mega pixel camera on the rear side with VGA front, while Spice goes with 5 mega pixel camera with 1.3 MP front camera. Byond Tech brings the B67 phone with 8 mega pixel camera with LED flash and 1.3 megapixel front cam.
Software
Nothing other than Android at this moment. Micromax Canvas Viva is with Android 2.3 Gingerbread OS and Spice Smart Flo Pace 2 & Byond B67 are powered with Android 4.0 Ice Cream Sandwich OS. Android 4.0 ICS provides the better performance, better application support and software optimization. Not sure whether Android 4.1 or Android 4.2 Jelly Bean will be delivered to these products.
Battery Life
In terms of battery capacity there isn't much difference in between them as all three devices are with 2000 mAh battery except Spice brings 2100 mAh to Pace 2 phone.
Storage
Micromax and Spice devices here are limited to low internals storage of 110 MB & 512 MB, while Byond B67 has 4 GB. Micro SD card slot is present on all of these phones but support changes as Byond B67 is limited to 8 GB, Spice Pace 2 to 16 GB and Micromax Viva phone to 32 Gb.
Here is the quick tabular comparison between the three of the entry level phablet phones by Micromax, Spice and Byond Tech -
| | | | |
| --- | --- | --- | --- |
| Parameter | Micromax A72 Viva | Spice Smart Flo Pace 2 | Byond B67 |
| Display Screen | 5" capacitive touchscreen display | 5" capacitive touchscreen display | 5" capacitive touchscreen display |
| Resolution | 800 x 480 pixels | 800 x 480 pixels | 800 x 480 pixels |
| Processor | 1 Ghz Single Core | 1 Ghz Dual Core | 1 Ghz Dual Core Processor |
| Dual SIM | Yes | Yes | Yes |
| RAM | 256 MB RAM | 512 MB RAM | 256 MB RAM |
| Operating System | Android 2.3 Gingerbread OS | Android 4.0 ICS | Android 4.0 ICS |
| Camera | 3 mega pixel rear side | 5 mega pixel rear side, LED Flash | 8 mega pixel, LED flash |
| Front Camera | VGA front facing cam | 1.3 MP front facing cam | 1.3 MP front cam |
| Battery | 2000 mAh Li-ion | 2100 mAh Li-ion | 2000 mAh Li-ion |
| Internal Memory | 110 MB | 512 MB | 4 GB |
| Micro SD card Support | Yes,  Up to 32 Gb | Yes,  Up to 16 GB | Yes, Up to 8 GB |
| Price | Rs 6499 | Rs 6999 | N/A |
| Buy Now | Flipkart | Flipkart | N/A |