Micromax and Karbonn Mobiles are the two low cost smartphones vendors based in India. They are in the market since 10 years and they have made not much impact than they Q4, 2012 results. According to IDC.com site the overall mobile phone shipment in India has reached to 218 million units a growth of 16% from CY 2011 when you look at year to year results.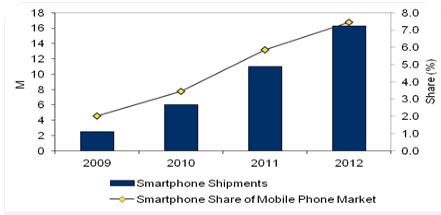 Top Five Smartphone vendors in Terms of Device Shipment in Q4, 2013 are –
Samsung: Samsung undoubtedly remained the #1 smartphone vendor not only in India but it worldwide leadership grows to all time high. Samsung has smartphones designed for all people with all sizes fit in all price range.
Micromax: Micromax Mobiles outperformed the competitors with aggressive pricing and the new launches in the past quarter. Thanks to Canvas 2 A110 and tablet PC where they have emerged as top seller.
Sony: Sony would be happy to see this result although they are on #3 spot. After break up with Ericsson this is first positive sign for the Japan smartphone giant. Their main success was range of mid-tier smartphones priced in between $150 to $300 which has done extremely well especially XPeria Tipo and XPeria Tipo dual.
Nokia: Nokia came fourth in Q4, 2012 results. Although its Lumia devices powered by Windows Phone 8 OS is growing, but considerably this success is credit to low cost Asha Phones unveiled in Q3 & Q4.
Karbonn: Karbonn Mobiles made it to the list of top 5 vendors for quarterly reports for the first time thanks to their new range of attractive priced smartphones launches in the previous and Q4, 2012.
Source: IDC.com