After JiaYu, Umi X1 and X2 another Chinese smartphone maker is set to debut in India. With India being the second largest country in the world in terms of population, there is much scope for budget friendly smartphones. People rather look at the price when they are out to purchase a mobile and 5 inches devices have certainly been the pick of the year. But can it get cheaper at $ 50 or less?
Mogu S1 Specs, Features
Price of phablet phone although cheaper ones are more than $ 120, some high-end phablet touches $ 500 or more per unit. Have you ever heard availability of phablet phone at $48(Rs 2500 or 36 Euros or 299 RMB)? It will soon be a reality in India and soon to debut in Europe, UK, USA and Russia. Mogu S1 will be the cheapest phablet phone to be available in India. It's also the world's cheapest phablet phone ever come out, already available in China. Beidou M1 is another cheap phablet phone available in China at $ 110.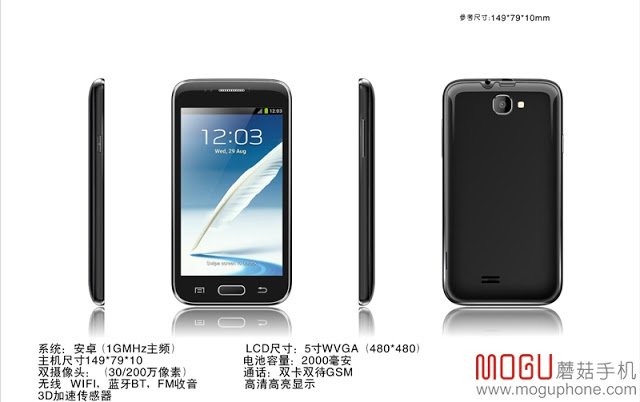 Mogu S1 is priced atleast 2 or 3 times cheaper than the cheapest phablets available worldwide. By seeing the price one can say that it might be low on specifications but it's not the case with Mogu S1, believe me. Ok! Let me go through physical specifications of the device. Mogu will certainly set a new standard in mobile phone industry.
Mogu S1 includes 5 inches WVGA capacitive touchscreen display providing a maximum resolution of 800 x 480 pixels and powered with 1 GHz single core processor from unknown brand. Interestingly it includes 2 mega pixel camera on the rear side and front facing VGA camera. 2,000 mah battery is good for average battery life and it includes Android 4.1 Jelly Bean pre-installed on the device out of the box.
Mogu S1 has following specifications –
5 inches WVGA touchscreen display
800 x 480 pixels display screen
1 Ghz single core processor
2 mega pixel rear camera
VGA front facing camera
Android 4.1 Jelly Bean OS
2000 mAh battery
Bluetooth, Wi Fi,Wi Fi tether, aGPS
Mogu S1 Price & Availability in India
Mogu S1 will be priced at Rs 2500 in India as reports suggest. It will be available for purchase at limited retailers and we will put forward the list before you here itself. Do bookmark the site by pressing CTRL + D button.