Motorola Australia rolls out Android 5.0.2 Lollipop update to Moto G 2014 model.
The Motorola Moto G 2014 Android 5.0.2 Lollipop update rollout began two weeks back. Since this is a phase rollout, earlier it was available in United States and Brazil. Today this update is available in Australia.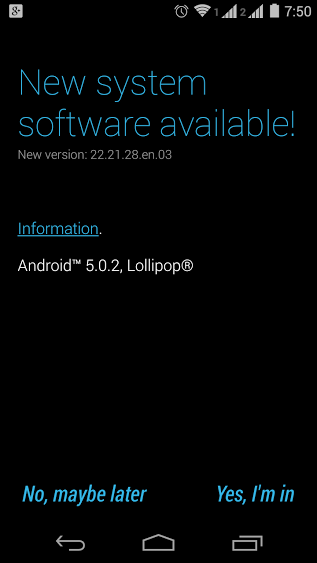 This puts Motorola Moto G 2nd generation only the list of only few devices that are currently on Android 5.0.2. The Android 5.0.2 Lollipop is the most latest version of Google's mobile operating system and there is although 5.0.3 is testing, the 5.0.2 is been the latest. Only few Nexus devices and GPE models are on Android 5.0.2 firmware. Motorola is equally competing with Nexus lineup.
What makes Motorola to have such quick updates - Because all Moto phones are with almost same stock Android with few Motorola apps. This makes them easier to update their products to latest firmware.
With Android 5.0.2 on it, Moto G 2014 model looks even better.