Motorola is expected to launch Moto G 3rd Generation phone in August 2015. A new report from Pisapapeles claims that Moto G 3rd generation and brand new Moto X Sport model were leaked with some major specifications.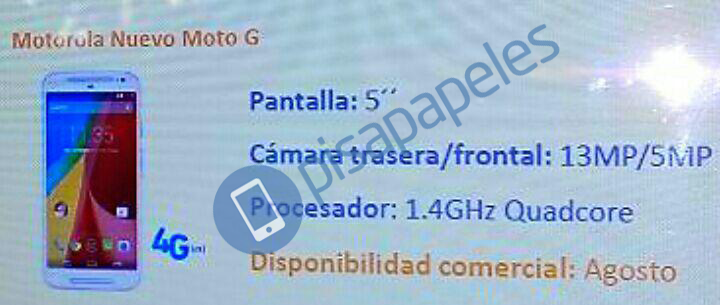 Furthermore this was clearly expected as Moto G 2nd generation price got dropped and it's now available in India at Rs 9,999.
According to the leaks, the device will be sporting 5 inch display atleast with 720p HD or 1080p full HD resolution. It will have 13 mega pixel camera on the rear side and 5 mega pixel front facing shooter. We also have the processor which is quad core clocked at 1.4 Ghz and this is clear from the above leaked photo.
The leakster also claims both of these handset will be announced in August [next month] and will be available in various parts of the world from September 2015. This is pretty obvious that Moto X 2nd generation and Moto G 2nd gen were released last year in the month of September, so a follow-up model is expected atleast after 12 months.