Motorola Droid Maxx, Moto X, Droid Ultra & Droid Mini are ready for Android 4.3 Jelly Bean update. Check Motorola 4.3 Jelly Bean update scheduled.
Update on December 19, 2013
Verzion Motorola Droid Maxx, Mini and Ultra now seeding 4.4 Kitkat update and Moto X has already received in a week back. Read further
August 27, 2013:
When Moto X was launched by Motorola, people were disappointed with its specs and pricing and everyone also pointed out that if Google owns Motorola then why the newly launched flagship handset isn't powered with latest version of Android? Well that leaves Moto X phone on Android 4.2.2 Jelly Bean firmware and same does comes out of box for Droid Maxx, Droid Ultra, Droid Mini phones which were launched recently for Verizon in United States.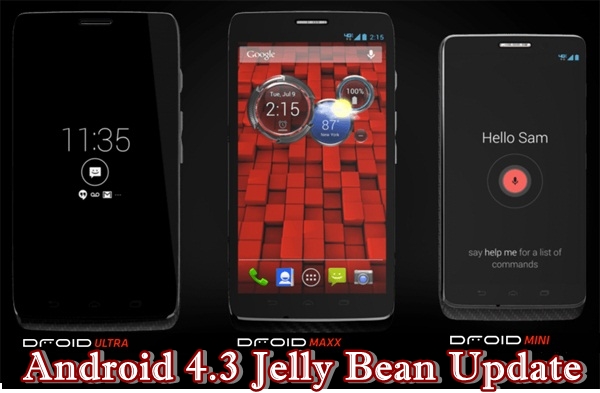 Motorola Android 4.3 Jelly Bean Update Schedule
There isn't much difference between Android 4.3 Jelly Bean and 4.2.2 version but it recommended updating your device with latest version whenever available. Motorola Mobility CEO says that the recent four Motorola phones will be powered with Android 4.2.2 Jelly Bean and update to Android 4.3 is ready for roll out and it will be soon be pushed.
Nexus devices were updated with latest Android 4.3 Jelly Bean on the same day when Android 4.3 was released but the case won't be same with Motorola powered phones. All the four devices will go through regular timing as that of non-Nexus devices and 4.3 Jelly Bean release will be taken care by individual carriers. We are here talking about official Android 4.3 JB update as custom firmware are already available.
So update to Droid Maxx/Ultra/Mini & Moto X is the responsibility of carriers like Verizon, T-Mobiles, US Cellular, AT&T & Sprint. Although its clear that the update will be released on the same day, it's certain to be available by September end with bloatware apps.
For the finest Google Android experience, you might need to consider Google Play Edition of popular flagship handset. And finally we will update you when this firmware updates are rolled out.