The Verizon and Motorola unwrap Droid Turbo, a device so-called as the next generation handset. It was shown on the Internet countless number of times, all the time with powerful specifications. The Droid Turbo will reignite the brand in America and other countries.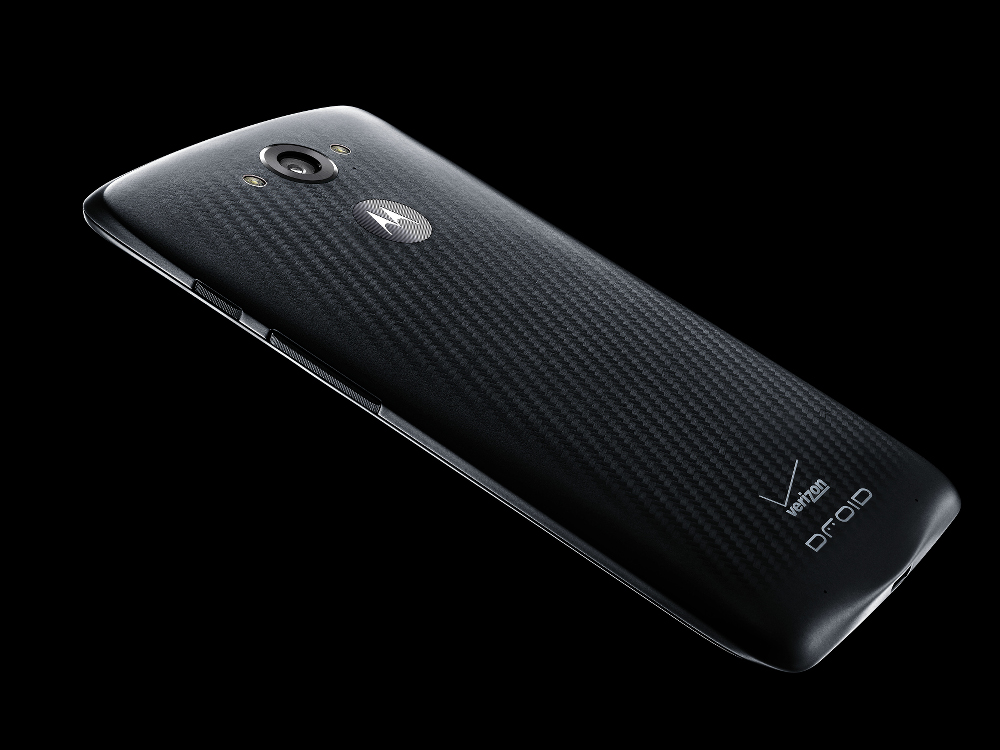 Droid Turbo Review: Display, Processor | Camera | Software & Storage | Battery Life | Prices, Plans | Conclusion
Display, Design & Processor
Everyone is looking for nothing less than 5-inch on their smartphone. Just like 5.5 inch iPhone 6 Plus, the Droid Turbo sports 5.2-inch AMOLED display providing 2560×1440 pixels Quad HD resolution with 565 ppi pixel density on top of Corning Gorilla Glass 3 protection.
Droid Turbo is power charged with Qualcomm latest Snapdragon 805 quad core processor clocked at 2.7 Ghz and accompanied by Adreno 420 GPU and 3 GB LPDDR3 RAM.
The best thing about the phone is the design, which is inspired by Motorola Moto G phone but it gets Ballistic Nylon or Glass fiber reinforced with Kevlar fiber by DuPont and nothing to explain about Corning Gorilla Glass 3. It also has water repelling nano-coating inside which protects devices from unexpected water spills.
Droid Turbo Camera
Motorola did pay a lot of attention to Droid Turbo camera which stands at 21 mega pixel and capable of 4K UHD and slow motion video recording. It includes several other features like Panorama, Tap to focus, Auto HDR, f/2.0 and camera produces 3936×5248 pixels pictures with 4:3 aspect ratio.
The front facing 2 mega pixel shooter is capable of recording 1080p full HD videos and should be enough as it will just be used in video calls/chat. Despite of all these, you will have to open Gallery to have some of the basic editing options like exposure settings, filters, rotation which are missing on camera app.
One who come from Nexus or any stock Android phone, will find almost similar UI been maintained by Motorola and this gives them the ability to push software update ahead of other carriers because developers will not have to pay much attention on UI customization.
Software & Storage
The Droid Turbo by Motorola is powered with Android 4.4.4 Kitkat OS with almost stock like user interface although you will find stock Moto apps like Moto Alert, Moto Assist, Motorola Migrate, Zap Zone, Zap to TV, Zap with Voice pre-installed apps.
Droid Turbo includes Moto Actions which allows users to dismiss incoming calls with wave of one hand for those who find ringing tone disturbing during work hours. Moto Display allows you to check for missed calls, access notifications when you wave your hands over the locked display.
Droid Turbo arrives in 32GB (Black Ballistic Nylon, Metallic Black, Metallic Red) and 64GB (Black Ballistic Nylon) version.
I am sure Motorola will consider pushing Android 5.0 Lollipop update very soon to this handset along with Moto E, Moto G and Moto X and it should be arriving in November or December 2014.
Battery Life
There is powerful 3900 mAh Li-ion battery that sits on lower back of the phone providing 48 hours of usage time, so forget about overnight charging your device. This phone also supports Motorola Turbo Power charger included in the box content at no additional cost with which a 20 minute charge can get you 8 hours of battery life. That's something like a revolution in smartphone this year.
Price, Plans, Availability
Droid Turbo is available for purchase on Verizon Wireless online and retail stores from October 30, 2014. The 32 Gb variant will be costing $199.99 with famous two years agreement or $25 per month with Verizon EDGE plan. The 64 GB Black Ballistic Nylon will be costing $249.99 for the two year activation or $27 a month with Verizon EDGE plan.
Unlock version is sold at $599.99. It's available via Verizon in United States, most Canadian carriers, UK/Australia and most part of the world.
Connectivity & Networks
The Droid Turbo released in United States is compatible with CDMA/EVDO Rev A (850, 1900MHz) LTE Cat 4 (bands 2, 3, 4, 7, 13) Carrier Aggregation (B4+13) GSM/GPRS/EDGE (850, 900, 1800, 1900MHz) UMTS/HSPA+ (850, 900, 1900, 2100MHz).
From the connectivity front it includes Bluetooth v4.0, Micro USB, 3.5mm headset jack, NFC and 802.11a/g/b/n/ac (dual band capable) and Mobile Hotspot.
Dimensions & Weight
Since this phone arrives in two different version of Ballistic Nylon and Metalized Fiber, we had to put up the weight and dimensions –
Ballistic Nylon: 143.5 x 73.3 x 11.2mm with 176 grams weight
Metalized Fiber: 143.5 x 73.3 x 10.6mm with 169 grams weight

Conclusion
With Motorola made Nexus 6 also available, it's the fight of Xperia Z3, Samsung Galaxy Note 4, iPhone 6 Plus now joined with Droid Turbo. I have no complains with Motorola flagship phone and definitely it's worth possessing right now. That's my take and although odds are in its favor, question remains – Is Droid Turbo as good as Galaxy Note 4?