Swipe Telecom has partnered up with MTv to come up with MTV Volt Android powered smart phone. This is not a normal phone to fit in your pocket as it comes with huge 6 inches display. So be careful when you opt for it. Amid featuring modest specifications required for a phone to operate, it's priced at Rs 13,000 in India.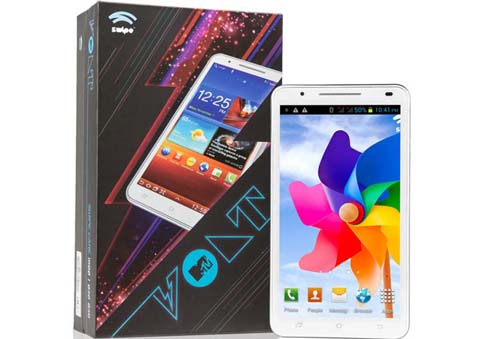 Swipe MTv Volt
Swipe has come up with MTv Volt smartphone in India, This will be the second phablet phone with 6" or more than that display screen. The first one being Byond Phablet 3 and we might soon see a host of mobiles with 6 inches display coming out in the market. The six inches display provides 854 x 480 pixels resolution which tells us that it's pretty ordinary display but 1 Ghz dual core processor is too good. Sadly RAM storage disappoints a user which is just 512 MB, I hope you can handle with that. Remaining specs are kept at par as it includes 8 mega pixel camera on the rear side with 720p HD video recording capabilities and good picture capturing capabilities.
We also see 1.3 mega pixel front facing camera which can be used for face to face video chat and video calls. Equipped with 3200 MAh battery on the rear side its quite good to offer 7 hours of talk time and ample amount of standby time. It will come out with Android 4.1 Jelly Bean OS with stock version retained. Coming to the storage options, it includes 4 GB internal memory and has a micro SD card slot with 32 micro SD card support.
Swipe Telecom is also planning to come up with a version of MTV Volt which includes 4,000 mAh battery inside. Talking more about this smartphone its preloaded with exclusive TV-player app which provides access to MTV Content all the day.
MTV Volt has following specifications mentioned over leaf –
6" capacitive touchscreen display
854 x 480 pixels resolution
1 Ghz dual core processor
512 MB RAM
8 mega pixel rear camera with LED flash
1.3 mega pixel front camera
4Gb Internal memory
Micro SD card slot
Android 4.1 Jelly Bean OS
3200 mAh battery
MTV Volt is priced at Rs 13,000 and it will be soon available at various retailers both online and retail stores India wide. We might see this phone add in MTV channel as well.