We want our device to be lighter and portable. This preference generally applies to laptops, tablet PCs and smartphones since these devices are mostly carried from one place to another. Keeping an eye on this aspect, NEC has released a 7 inch Android Ice Cream Sandwich OS powered Medias Tab UL N-08D an amazing tablet.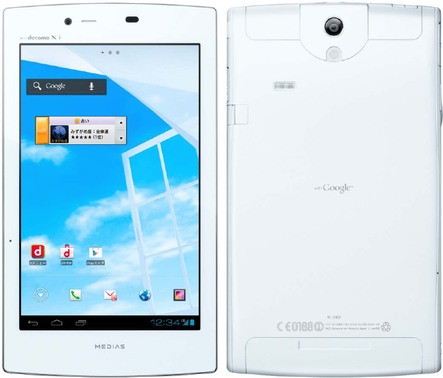 NEC Medias Tab UL N-08D
Medias Tab UL N-08D by NEC is the lightest 7 inches tablet just weighting 250 grams. Until now we have seen thinnest tablet and smartphone but did you ever cared how much does it weights? Since tablet PC are for easy portability, the weight can play an important parameter.
Leaving behind specifications, Medias Tab UL N-08D is capable of knowing when to vibrate your device. For example if you are watching a video or movie, it automatically senses the when to force vibration and effects. Finally coming to the other specifications, this tablet isn't easily to be thrown away from competition. Its powered with Qualcomm Snapdragon MSM8960 dual core processor clocked at 1.5 Ghz supported with 1 GB RAM. Interestingly there are two camera that we spotted, the primary rear side camera with 8.1 mega pixel sensor provides amazing 1080p HD video recording and splendid picture capturing capabilities and the front facing 2 mega pixel camera can provide 720p HD in video chat like Skype, Google Hangouts on Google +. It comes with 16 GB internal memory storage capacity along with a micro Sd card slot to further expand the storage capabilities.
NEC Medias Tab UL N-08D has following specifications –
7" WXGA 1280 x 800 pixels resolution
Qualcomm Snapdragon MSM8960 dual core processor
1 Gb RAM
8.1 MP rear side camera
2 MP front facing camera
16 Gb internal memory
WiFi, WiFi tether
Android 4.1 Ice Cream Sandwich OS
Update: This tablet isn't available in the market anymore.