Whether you call it Neo N003 or NEO Rio 003, it will be a quad core phablet phone with 5.3" display. Check Rio 003 specifications, features and details.
NEO Mobile name you might not have listen its name until now but it's a very small operator in China. It has already launched Rio series of smartphones with Rio N002, Rio NS, Rio N002 ST and Rio N01. Today, it's rumoured that NEO Mobiles will launch a smartphone called NEO Rio 003 and here we go through detailed specifications, features and price information of NEO Rio 003 smartphone.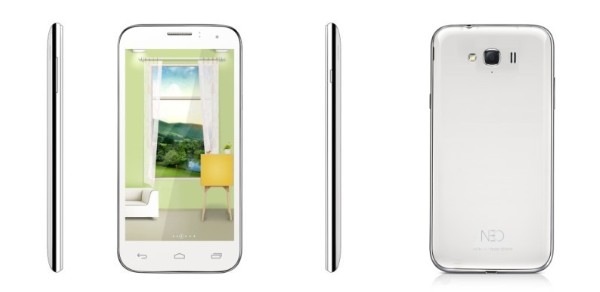 It's known fact that 2013 will be the year of phablet phones as we see lot many devices been scheduled for launch. First Galaxy Grand is launched on December 18, 2012 making it for CES and MWC, Galaxy Note 3 is in development for Q3, 2013, Huawei Ascend D2 would be another large screen phone along with ZTE Grand S. So still we aren't into 2013 and we have more than 10 devices scheduled for early 2013 debut internationally. Here we go through NEO N003 another phone adding to the list of phablet phones.
NEO Rio 003
Going through the specifications of the NEO Rio 003 smartphone it will be a large screen display smartphone as it includes 5.3 inches IPS capacitive touchscreen display providing a maximum resolution of 1280 x 720 pixels HD IPS screen. It will be powered with 1.3 Ghz MTK MT6589 quad core phone along with 1 GB of RAM taking care of the processing unit. This means that the device is certainly a high-end smartphone and another phablet phone in making headed for the launch in China. As of now the image of the smartphone has been revealed with detailed specifications but no word has been said on the pricing and availability information. We are sure NEO Mobiles will bring it to upcoming mobile events and it will be their flagship smartphone.
NEO Rio 003 includes amazing 12 mega pixel camera on the rear side providing better image capturing capabilities and includes 1080p HD video recording capabilities as well. Also included is the 3 mega pixel camera on the front facing side. Included with 3,000 mAh battery, this is a great specification to battery and the device includes capabilities like Wi Fi, GPS and Bluetooth 4.0. The design of the phone doesn't look like to be an ordinary device but nothing can be judged depending on the words been said on paper.
The device also includes Dual Wheat noise cancellation and it will be powered with Android 4.0 Ice Cream Sandwich OS which is the central part of attraction right now. The smartphone include various inductors like gravity sensors, light sensor, distance sensor, compass and gyroscope.
NEO Rio 003 has the following specifications –
5.3 inches IPS touchscreen display
1280 x 720 pixel resolution
1.3 Ghz MTK MT6589 quad core processor
Power VR SGX 544 graphical processor
1 GB RAM
8 GB internal memory
12 mega pixel camera, 3 mega pixel front facing cam
3,000 mAh battery
Wi Fi, GPS, Bluetooth 4.0
Dual Wheat noise reduction
Android 4.0 Ice Cream Sandwich OS
The device is just rumoured and the detailed specifications, price and availability will be known soon.