The LG Nexus 4 is still going good with sales as the demand of this smartphone is quite high. T-Mobile might have tough time going against the Google Play Store which has been selling the unlocked device for just $349 as of their current listing of $ 199 with two years contract. Actually that is not harsh move by T-Mobile, but Google Play Store is offering amazing discount. This device is one of the top smartphones to buy in 2013 at T-Mobile.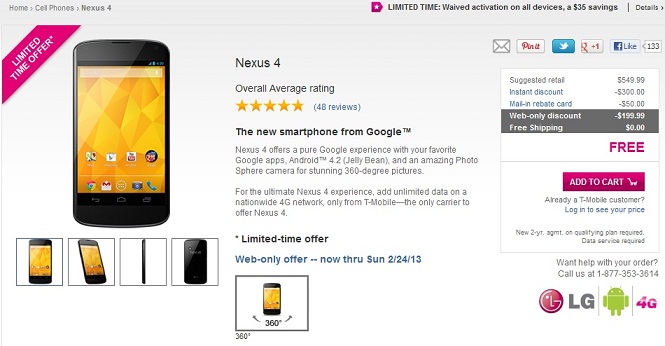 To compete with Google Play listing, 10 days back T-Mobiles have announced at price cut of $49 (selling at $150 some two weeks back) and now T-Mobiles have surprised its customers that the Google branded latest phone, Nexus 4 would be available for free of cost but you need to sign up with a new two years agreement.
But there is a catch here as T-Mobile is offering this for customers via web store purchase and we ensure that it doesn't really make any difference if you purchase it online or by going through its stores. Infact by online order, you are saving your time.
And there is another catch as well – T-Mobile is providing this offer for the users who purchase it on or before Sunday, February 24th. Yes, that the deadline and after which it will be back to its normal listing price of $ 150. Looks like T-Mobile wants to clear off their large number of stock within few days as Mobile World Congress is very much near, next month we might see many more smartphones coming out. HTC One is clear pick by all the four carriers of USA and LG Optimus G Pro too will make landing followed with budget friendly Optimus F5 and F7.
Finally if the Nexus 4 was on your cart some days ago and you didn't get chance to buy it as it ran out of stock all the time whenever you hear about it, what could be better than owing it for free!
So Order your Nexus 4 now following link at T-Mobile