The LG made Nexus 5 is now seeding the reasonably good anticipated Android 5.1 Lollipop because of bugs included in the Android 5.0.2 release. This update is available via Over the Air download and once of the tipster send us this news along with the screenshot of the OTA notification that was received on his device.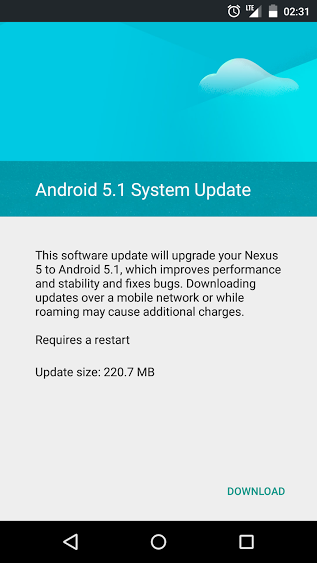 The Android 5.1 update on Nexus 5 costs 220.7 MB and to download it, you should go through Settings > About Phone and then tap on System Updates. Yups we recommend you to connect to available WiFi for downloading 220 MB file and complete the process under 30 minutes.
Android 5.1 Changelog
Android 5.1 has few important features added moving from Android 5.0.2. It includes better dual SIM management, welcomes back Silent mode and whole lot can be checked here.
Check whether you Phone is eligible for Android 5.1 update or not.
The T-Mobile Nexus 5 got it the same day when Android 5.1 was officially announced[Read More].