After a huge response to Nokia Lumia 920 and 820 smartphones, the Finland based giant is back into track and they should continue to be on same track. Moving on from best Windows Phone 8 smartphones, we see lot many Windows 8 devices coming out. Importantly, the CES & MWC two of the biggest mobile events are very near and this is the right time for the announcement of devices.
Nokia Juggernaut
Nokia Juggernaut an upcoming device has been leaked along with a picture of the device. Looks like to be an extension of Lumia 810 taking the Juggernaut to the size of Galaxy Note II by Samsung. The photo of the smartphone has been published by MyNokiablog and we aren't sure this is legit information or not. There is also a photo of Settings screen which reveals that smartphone will include the Snapdragon S4 chipset along with the model name displayed as Juggernaut Semaphore. However it looks like to be a prototype of upcoming Nokia Lumia smartphone and might get a different name as well.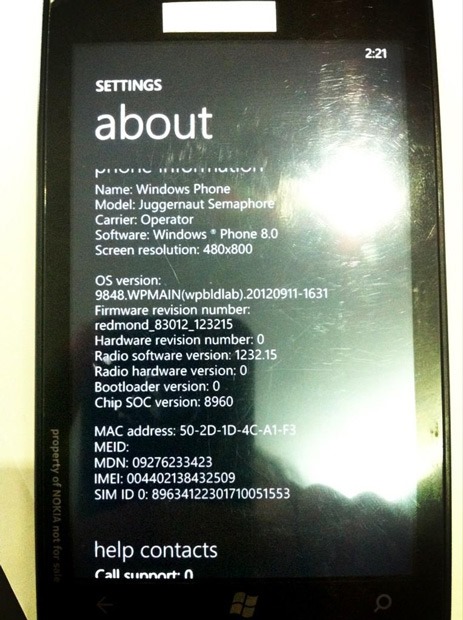 More details about the smartphone we know is that the display screen will provide a maximum resolution of 480 x 800 pixels resolution which is too low. Are Nokia going the Samsung's way to reduce the display screen technology in order to reduce the cost of the device and keep the processor and other hardware profile to high-end? The answer to the above question will surely be automatically known once the device is launch. There is no official release date available with us right now so you can assume that this is just the information about the leaked device.
Nokia Juggernaut has the following specifications –
Windows Phone 8 OS
800 x 480 pixels resolution
Qualcomm Snapdragon S4 processor
Wi Fi, Wi Fi tether
4G LTE
Windows App Store access
More information about the device will be available in the coming weeks.