At IFA 2014, Nokia will officially announce the Lumia 730 and Lumia 735 smartphones and official date has been confirmed to September 4. Joining this Windows Phone 8.1 smartphone lineup is the Lumia 830 device as well.
Nokia Lumia 830 RM-985
The Lumia 830 is expected to be a lower flagship smartphone but not truly a flagship phone. It will be spotted with best selling 20 mega pixel PureView camera imported straight from Lumia 930. This will certainly appeal the Lumia 930 users to upgrade. It has dimensions of 139.4 mm x 70.7 mm x 8.5 mm and might be with 4.5 inch or 4.7 inch display running Qualcomm Snapdragon 800 or 801 processor.
There is no further information but it will be having a micro Sd card slot, dedicated camera button, 4G LTE connectivity and a removable back cover with a battery. Verizon, AT&T, T-Mobile be selling this smartphone in United States. The device has passed Brazilian Telecom authority few days back.
Nokia Lumia 730
Lumia 730 is rumored to be with 4.7 inch 720p HD display with 1 GB RAM, 8 GB internal storage capacity, 5 mega pixel front faving camera, Qualcomm Snapdragon 400 processor, 2000 mAh Li-ion battery. The smartphone has been leaked to be perfect HD ready selfie phone and includes dual SIM connectivity.
Nokia Lumia 735
The Lumia 735 will be 4G LTE supported handset. Lumia 735 will be equipped with 6.7 MP rear camera and 5 mega pixel front facing camera.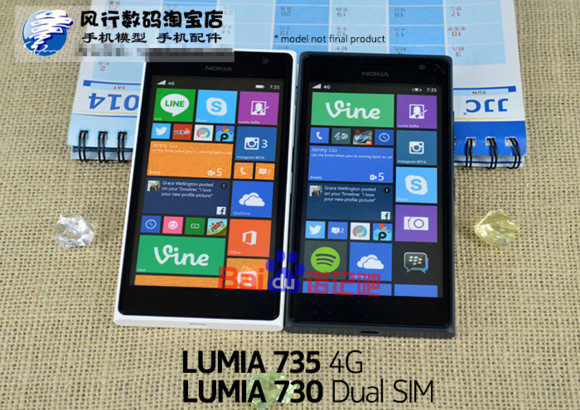 So we will be posting out all details in coming days.