Nokia upcoming Windows Phone – RM-876 Lumia 909, Lumia 909.1(RM-875) & Lumia 909.2 (RM-877) phone have been leaked.
While Nokia has yet not decided to go with Android, the Finland based smartphone manufacturer has gone down ever since Android debut few years back. While it's clear understanding that people are either opting for Apple device or Android powered phones, the market share of Nokia phones have gone down.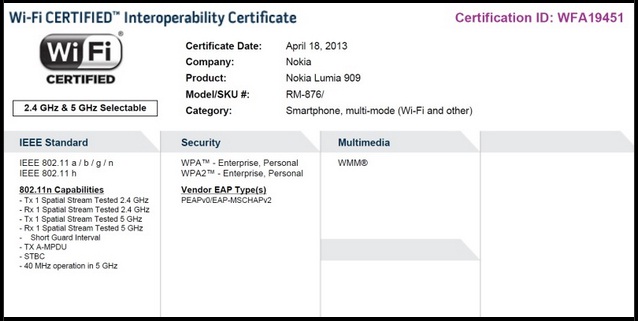 Nokia recently launched Lumia 1020 phone nothing less than a flagship smartphone sporting 41 mega pixel image sensor import from Nokia 808 PureView. Anyway apart from Lumia 1020, Nokia is also gearing up for launch of budget Asha phones namely Asha 208 and Asha 207 worldwide. Apart from this, Nokia is doing right to introduce back to back Lumia devices.
Also Read – Nokia Windows 8 Amber update
Today, we saw Lumia 909, 909.1 and 909.2 passing through mandatory Wi-Fi certification process for approval. Nokia Lumia 909.1 is with model number as RM-875 & Lumia 909.2 is with RM-877.
As of now details about these device launch or availability is known to us. We might here some good news about these devices in coming months.