Nokia Lumia 928 photo has been leaked and its EvLeaks again showing up what could be the next Lumia 928 looks like when it arrives on Verizon USA. With Evleaks, the device will be launched very soon.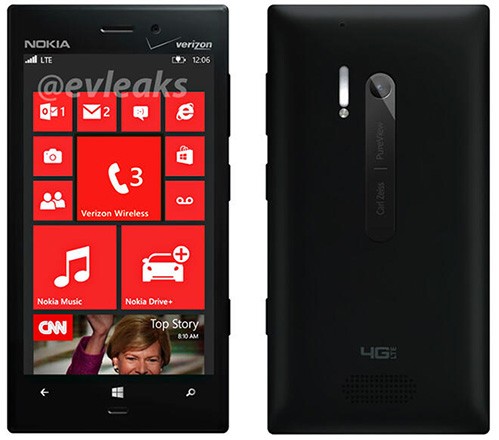 Previous Rumors
First spotted as Nokia Lumia Laser, but later it was confirmed to be the codename of Lumia 928 a brand new Windows phone headed for launched in United States via Verizon. Its altogether a variant of Lumia 920 smartphone with some features added like aluminum body instead of colored plastic that you see on the original Lumia 920. So before Lumia 1000 hits the market, it's time for intermediate of those two flagship phones.
Nokia Lumia 928
Lumia 928 measures a thickness of 10.2 mm with thicker bulge near camera on back. This means that Nokia phones are still thick when compared with Apple phones, Samsung and HTC. Now that's one important point to consider. So it Lumia 928 brings the ditching of polycarbonate design and replaced it with aluminum body surging the weight of the device further. Moreover as we compared it with other Lumia phones, 928 looks alike Lumia 720 with square shape.
And importantly the beautiful PureView camera of Nokia phones, is sported on Lumia 928. So its quite a good number of improvements over a device which is the flagship Windows Phone. Its expected to launch on April 25 on Verizon.
So Lumia 928 has following specifications –
4.5 inch OLED display
1280 x 768 pixels resolution
8 mega pixel PureView Camera
Xenon LED flash
4G LTE
1.5 Ghz dual core processor
1 GB RAM
Windows Phone 8 OS
32 GB internal memory
2,000 mAh battery
Just like other Lumia phones, this will be available in color options, from black, cyan, red, and white colors as well. And on the other side you will be happy to hear that Refurbhished Lumia 920 is been sold at just $10 with two years agreement with AT&T.
Via: Evleaks