Notion Ink Adam tablet is now available in India at Rs 24,000 but we have the fresh rumors of Adam 2 tablet, the successor of flagship model. This means that Notion Ink is not dead as new tablet is brought up in India. Funded by Technology Development Board (Department of Science & Technology), it slated for release at mere 12,000 in coming weeks in India.
It's not just a 10.1 tablet PC but it brings the dual display with primary screen being normal IPS display 1280 x 800p(16:10 aspect ratio) found in most of the tablets and other one is on the spine of the device. The second display shows up notifications or contextual data been displayed on the main screen. It's with elegant, minimalistic and simple design and thin bezel provides immersive visual experience on to Android 4.2.2 Jelly Bean OS in adoption, the latest version of Google mobile platform.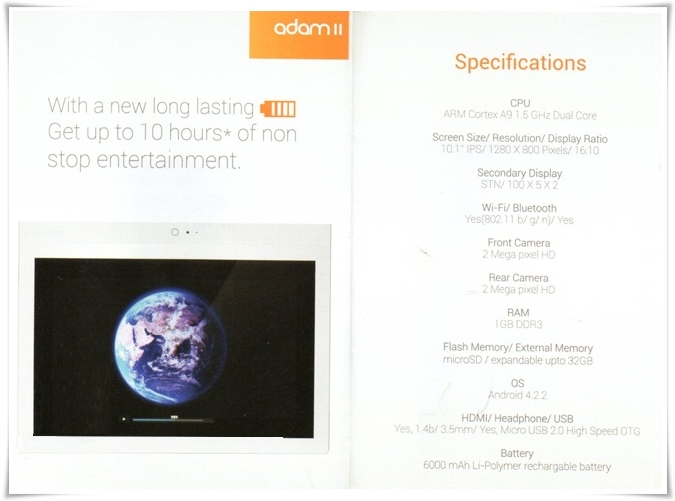 According to data sheet, it's powered with Cortex A9 dual core processor clocked at 1.5 Ghz and includes 2 megapixel camera on the rear side and front facing normal camera. It includes limited internal storage. Finally it's powered with 6,000 mAh Li-Polymer rechargeable battery and it comes with 3G SIM card slot as well for phone calling feature.
Pricing of Rs 12,000 per unit in the India market means its directly taking on Asus FonePad and Nexus 7 tablet.