Oppo Mobiles has recently launched Oppo F3 Plus phone and here we have the Oppo F3 Plus review in detailed with Oppo F3 Plus features, battery life, display, and performance.
Priced at ₹ 30,990 in India, all new Oppo F3 Plus is now available for purchase from Flipkart and Amazon.in. You might have seen its ads on television where Deepika Padukone is the new brand ambassador for Oppo and it's her first consignment. In India, Deepika is the #1 Bollywood actress. Advertised as best dual camera selfie phone – 1 for a selfie and other for group selfies and priced at Rs 30,990 we take a deep look at it by going through its review here.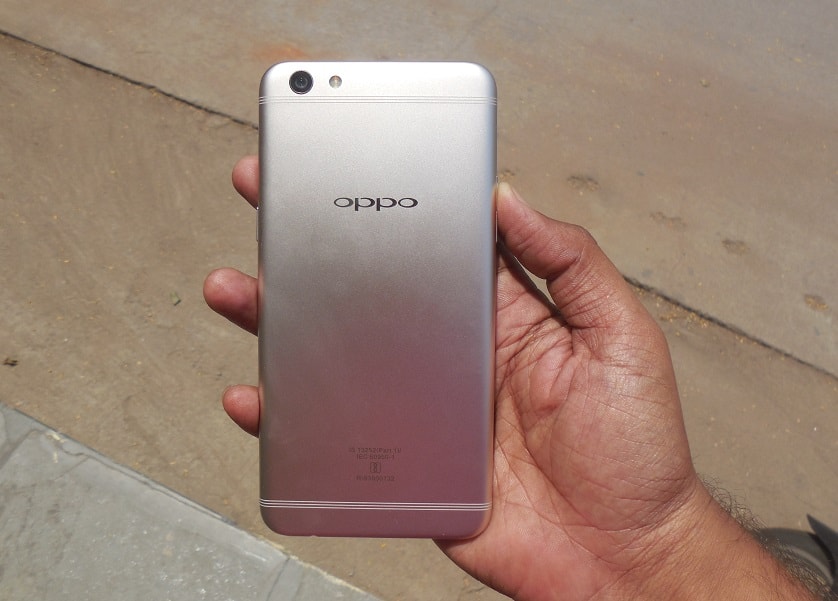 Oppo F3 Plus Review
If you are looking to purchase this smartphone, then please first read-out Oppo F3 Plus Review in full and be a happy customer. And let me tell you that this is my personal review after buying this smartphone and using it for a couple of days. This is not a paid endorsement and I am unbiased. So, let's get started with design and display.
Design and Display
When I picked this handset for the first time, it looked like a bigger 5.5 inch smartphones but F3+ is with 6 inch display. It's bigger in size but given that Galaxy S8 has 5.8-inch display, it's right on the money. If you are coming after using Apple iPhone, then you will feel that it's a big size. Even though it's big it feels compact because screen to body ratio is about 75.1%.
The display looks vivid and sharp with full HD 1920 x 1080 pixels resolution. We found colors on the display heavily saturated making an image on the device looks unnatural. You can feel this effect on the camera as well.
Oppo is very happy to add Corning Gorilla Glass 5 display protection on top. Single hand operation is nearly impossible on it.
In terms of design, every OEM is trying to copy iPhone's design. F3+, however, isn't an exception. From the back, it looks like an iPhone 7 Plus with a missing "Apple logo". The metal unibody runs wholly over the body of it. It has got rounded edges which make it easy to hold and operate.
Many phones slips off my hands during use but F3 Plus we didn't drop it even once.
There is a fingerprint sensor integrated with the home button and it does not only help in locking/unlocking the device but also works for locking apps and files.
There are backlit capacitive touch buttons on the either side of the home button. The mic, sensors and dual front camera are on the top.
Speakers and headphone jack are located on the either side of the micro-USB port at the bottom along with a mic. Coming to the top there is also an additional mic for noise cancellation.
On the left side bezel we have the volume rocker keys and on the right side bezel, we have got the SIM card tray with Power button. It's a hybrid SIM card slot, which means you can use either SIM card or memory card on the second card slot (up to 256 GB supported).
Unboxing
Through the device unboxing, we found the phone with headset, earpiece, SIM ejector, USB cable with power adapter, silicon case and instruction manual. The phone comes with pre-applied screen protector.
Performance
For any smartphone, atleast par performance is expected. Sold at Rs 30,990, it's equipped with Qualcomm Snapdragon 653 chipset with 4 GB of RAM and 64 GB inbuilt storage. It should match OnePlus 3 in terms of performance but Snapdragon 653 itself falls behind Snapdragon 821 when compared. When we conducted Benchmark test on it, we found the score of 92,500 in AnTuTu and 35 fps in GFXBench.
Benchmark Results:
GFXBench Score – 35 fps
AnTuTu Benchmark Score – 95,000
Oppo F3 Plus Camera Review
Oppo F3 Plus is known for its dual front camera and we have covered this section of Oppo F3+ camera separately with samples, video samples and lot more.
Software Interface : ColorOS Walk-Through
While I always prefer smartphones with stock Android or pretty close to that. How much I hate MIUI and TouchWiz, I love software on Motorola, OnePlus and Huawei phones. The Oppo F3 Plus runs on Android 6.0.1 Marshmallow out of the box with a custom ColorOS. The ColorOS version was found to be v3.0.0i and it doesn't look like that it will get the Nougat update. However, if it does, then it will be a great surprise for this smartphone owners.
On the F3 Plus, Oppo tries to make a clone of iPhone. The Settings icon and Settings options are way similar to iOS 10. Apart from normal Settings options, it has got proprietary Oppo AppStore, O-Cloud, Simple Mode and App handling settings.
There is no built-in file manager and you might need to download any of the best Android file manager apps.
Features
#1 Eye Protection Mode
Smartphones can have adverse effects on your eyes. To reduce eye strain, Oppo has added ColorOS Comfort Display which filters the blue light spectrum, thereby softening the glare and eye strain. This is a nice add-on feature.
To adjust this settings, you can do it by going through notification panel or go to Settings > Display & Brightness and tap on Eye protection display.
#2 Low Power Mode
When you are running low on battery, you can turn on the Lowe Power mode to extended the battery life until you find a charger.
Storage
In terms of storage, there in no compromise here, as it has got 64 GB of inbuilt memory. It's a dual SIM device with Hybrid option and you can either pump in a second SIM or a memory card [supporting up to 256 GB]. Sorry both memory card or SIM 2 will not work together. So, sorry guys you will have to depend on another smartphone for using JIO SIM and memory card together.
Oppo F3+ Battery Life
Powered with 4000 mAh non-removable battery, you are bound to get a single day of usage. Oppo has added VOOC Flash Charge Mini (Mini because of a small adapter). Fast charging will work on the company's official chargers and adapters only.
Pros
Decent Performance
Still a good camera for selfies
Above par battery life
Cons
Runs on older Android 6.0.1 Marshmallow version
No NFC
No FM Radio
No USB Type-C
Default Notification sound like a dumb phone tone
Hybrid Dual SIM
Oppo F3+ Alternatives
Straightaway from the launch date, this one will compete with Vivo V5 Plus as the dual Selfie phones. And at a price of Rs 30,990 you can find lot many Android phones. OnePlus 3T stands-out because of the TV commercials featuring Amitabh Bachchan but wait Oppo has replaced their brand ambassador. Will Deepika Padukone do any favor to the company?
Final Verdict
F3 Plus price of Rs 30,990, faces a stiff competition from OnePlus 3T and Samsung Galaxy C9 Pro but it has it's own highlighting features which separate it from the rest of the two.
At that price, it offers a lot, you have a decent build quality, very good cameras, and excellent battery life. However company missed out some of the advanced features like NFC, USB Type-C, FM Radio. One of the biggest disappointment is the Android version on the device which was found to be Android 6.0.1 Marshmallow. It's two generation old considering the recent preview of Android O. Atleast it company gives out the Nougat update then it will be better.
All in all, the Oppo F3 Plus is perfect for selfies but still not #1 choice for an all round smartphone. Go for it if you are selfie-obsessed because it has got a second camera dedicated for group selfies [groupies].
Ratings:
Display & Design – 4.5 /5
Camera – 5/5
Performance – 4.25/5
Built Quality : 4 /5
Features : 4/5
Software : 3.5 /5
Battery Life : 4.25 / 5
So, that's all we had in our Oppo F3 Plus review, do check out best dual camera smartphones list.