Oppo is ready for Oppo Find 5 successor and without any surprises it will be named as Oppo Find 7. Check Oppo Find 7 rumored- specs, features, price, availability info.
It's not too easy to forget Oppo Find 5 since its one of the slimmest smartphone ever launched on magical date of 12.12.12. After its China debut, it was available for international customers From February 27 and recently Black variant of it was also released. Apart from high-end features sporting quad core processor on to a 5 inches phablet with 1080p full HD display, its camera provided stunning quality of pictures as its equipped with 13 mega pixel sensor and 2500 mAh battery ensure you are with endurance rating of 43 hours.
Oppo Find 7 -Rumors
Oppo Mobile Telecommunications is now gearing up for successor of Oppo Find 5 and without any surprises it will be named as Oppo Find 7 and alleged photo of it was published on to China based publication called Weibo. It's a trusted source of leak devise and design of Oppo Find 7 is quite similar to Find 5 although it looks like that the new generation phone will be sporting very thin design, thinner than Find 5 as well. As of now these are just back fence talks and only thing which is clear to us is that Oppo is gearing up for Find 7 smartphone and soon we might see passing through various certifications processes. Here is the image of leaked Oppo Find 7 photo -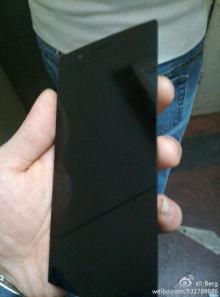 You might be wondering what would be the specs alike? Its quite obvious that it will be an Android phone with Android 4.2 or Android 5.0 Key Lime Pie out of box.
Keep checking up this space for Oppo Find 5 release/launch date, availability, specifications and photo gallery coming up soon.