Europe wide famous Orange Telecom few days back announced uncommon Fujitsu Stylistic S01 phone for seniors citizens and today they have announced three new entry level smartphones, don't ask about the OS, its naturally will be Android. Dubbed as Lumo, San Remo and Nivo, it will soon launch in France. Going healthy at this rate, looks like hardly there will be any device left for special announcement at Mobile World Congress. It will be more often like a Nokia show at MWC with LG officially announcing Optimus F5 and F7 phones, HTC One was launched along with Optimus G Pro launch recently and other followed the same trend.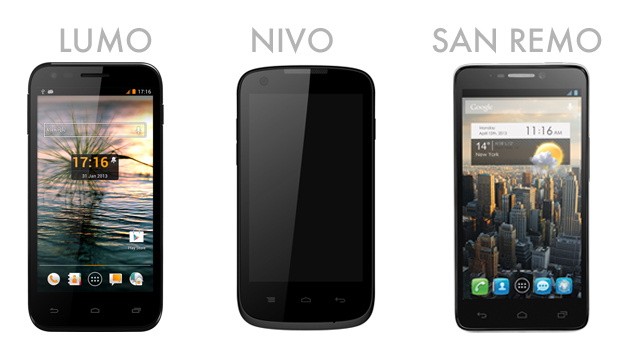 Lumo, San Remo and Nivo are the self-branded smartphone by Orange Telecom and these will be flaunted at their booth in MWC 2013.
Orange Lumo
Orange Lumo will be the first 4G LTE phone to be launch on the network. So if anyone willing to give a try to 4G LTE speed on Orange Telecom Europe, you can buy the Lumo smartphone. It will be an affordable smartphone featuring the large screen 4.5" touchscreen display to be available in the market very soon. This smartphone will provides ultra-fast LTE connection and 8 mega pixel camera on the rear side certainly means that the device will be a high-end sophisticated smartphone.
Additionally we Android 4.1 Jelly Bean operating system version out of the box.
Orange San Remo
Orange San Remo features large screen measuring 4.7 inches measured diagonally alongside maintain a slim design with thickness standing at just 8.2 mm. Just Lumo smartphone it has 8 mega pixel camera on the rear side and runs on Android 4.1 Jelly Bean OS.
Orange Nivo
Orange Nivo low-cost Android 4.1 Jelly Bean powered smartphone featuring 4 inches touchscreen display. Alongside featuring mediocre specifications, it includes 5 mega pixel camera on the rear side.
Pricing of these smartphone will be available with local availability in European countries. Also all these three smartphones might not be available in all the countries of European.