From years Android smartphone owners are complaining of too low battery life from the device. They have to charge their handset overnight and this has been trouble ever since Android came into inception. This year we did see some revolution as smartphone with larger battery came into existence. We also has major battery overhaul, thanks to inclusion of Quick Charging facility and various battery optimizations methods like Samsung has gone with Ultra Power Saving mode.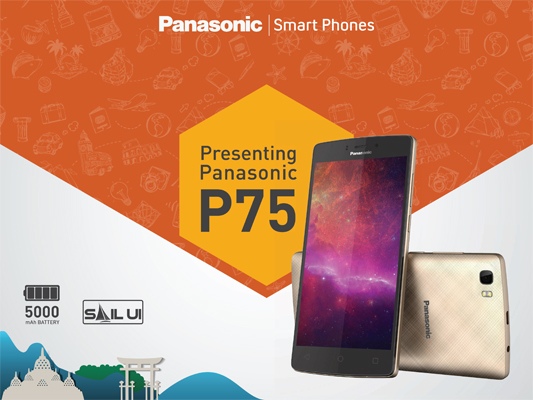 Panasonic is into smartphone business since a long time and for this time we have a stiff competition at Rs 6000 as Panasonic P75 goes official. The best specifications that we found is the 5000 mAh battery on the device which is good enough to run this smartphone for a minimum of 2 days heavy usage. That's certainly wonderful.
Panasonic P75 Price in India
The P75 smartphone from Panasonic is available in Champagne Gold color at Rs 5555.
Buy Panasonic P75 from Snapdeal
Panasonic P75 Specifications
Apart from 5,000 mAh battery, the smartphone is ideal with normal specifications like 5 inch HD display, Quad Core Processor, 1 Gigs of RAM, 8 GB internal memory and runs on Android 5.1 Lollipop.
Full specifications are mentioned below –