Patanjali 5G SIM: Are the news of Patanjali 5G SIM card or Patanjali SIM card or Patanjali 5G phone पतंजलि 5G real or fake? We discuss it over here.
Rumors of upcoming smartphones, products, and gadgets get a decent number of attention. Look at iPhone 8 and Samsung Galaxy S8, they are searched more. And very recent news relating to Baba Ramdev's Patanjali were spotted. The rumors claim that Baba Ramdev, the Spiritual Yoga guru, and mastermind behind Patanjali, a herbal and ayurvedic product brand have plans to enter telecom sector with the launch of new Patanjali 5G SIM card. The rumors also claimed that Patanjali smartphone will be also launched.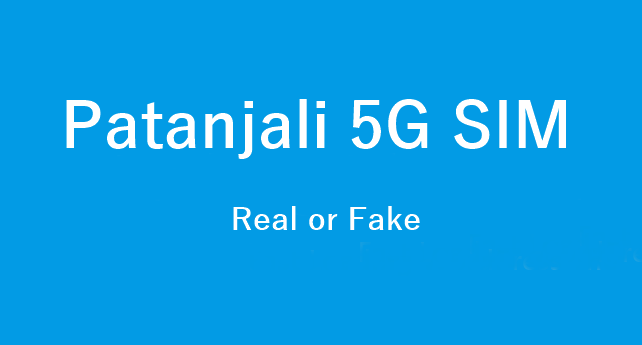 Patanjali 5G:
Many websites have published the news relating to Patanjali 5G SIM card and corresponding Patanjali 5G services. These websites also carried 5G SIM card photos and pictures. Many websites claim that these SIM cards by Patanjali are compatible with 4G, 3G, 2G and offers unlimited data, voice, and video calls. There are YouTube videos on the same story. So are this news real? We try to find it out here.
Patanjali 5G SIM
Patanjali is rumored to jump into telecom sector with the launch of 5G Services. If it get's launched, it will compete with other players like Jio 5G, Airtel 5G, Vodafone and Idea 5G. These services are limited to 1.3 billion people in India.
Patanjali Mobile Phone:
There are even rumors that, just like Reliance, Baba Ramdev with Patanjali brand will come up with Patanjali 5G services and also the Patanjali phone. This phone is expected to come up with 5G services built-in.
There are rumors developing about this story. Further people have searched for the Patanjali phone price and Patanjali phone specifications.
This is a weird thing because there is no such Patanjali mobile or Patanjali 5G phone. It's just fake thing.
Is Patanjali SIM Real?
This news/story happens to be nothing official. Even company's official representative hasn't claimed of anything such.
The Patanjali 5g SIM images and photos turn out to be highly photoshopped and all news relating to Patanjali 5G or Patanjali SIM card is 100 percent fake. There are no chances that they are real. The rumors of Patanjali JIO SIM, पंतजलि जिओ सिम 5जी turns out to be unreal.
Also Read – JIO 4G Plan
So, next time when you see this sent by your friend on WhatsApp or email or website, then consider this to be 100 % fraud news.
Update: There is no such plan by Baba Ramdev or it's Patanjali come up with Patanjali 5G services. Alternatively, check out Airtel 5G.