If you are betraying PayPal for hefty fees, think again, PayPal is still the best suitable way to get paid online. A lot many alternatives of PayPal in the form of Payoneer, Stripe have come up and in this article we through light on Payoneer, comparison of Payoneer vs PayPal.
Payoneer Fees, Charges
In quest of best PayPal alternatives, I landed on Payoneer. As I am from India, I needed Payoneer MasterCard to receive payments directly via ATM. I simply contacted them about it but as their reply – as part of ongoing efforts to improve services, Payoneer India has been discontinued. How can one improve services by shutting down services? Funny, isn't it.
Then I emailed then using contact form and I was able to find a page where in residents outside United States can apply for MasterCard directly (US residents require signup via any of the affiliates). Without caring for Payoneer Prepaid Mastercard fees, I signed up and before agree the terms, I landed on their pricing and fees structure.
I was surprised with the way they charge customers. $30 as the annual account maintenance and card replacement costing $13. Furthermore they charge $3.15 per transaction done via ATM and if there are any ATM decline you will be charged $1 for it. To enquire your balance you are charged $1.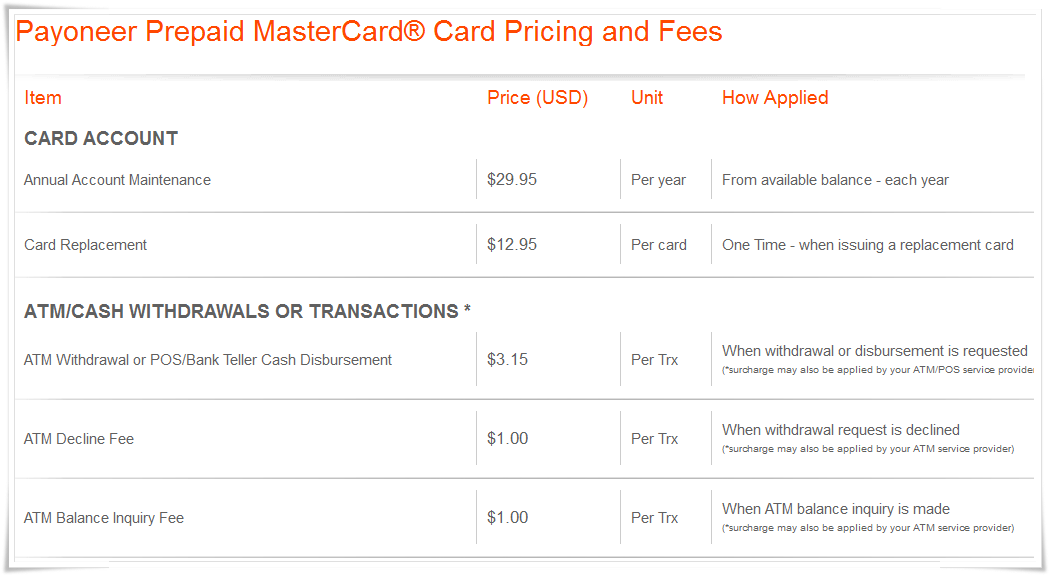 I can only say that these charges are way too high. Is Payoneer the best PayPal alternatives? I don't think so! Are you listening Payoneer?