Pebble Steel Smartwatch to be unveiled at CES 2014 priced at $249.
CES 2014 without new smartwatches, we can't imagine. Before CES 2014 commences, Samsung Galaxy Gear 2 was expected but surprisingly Pebble new smartwatch is gearing up for 2014 debut that too at International Consumer Electronics Show (2014) at Las Vegas.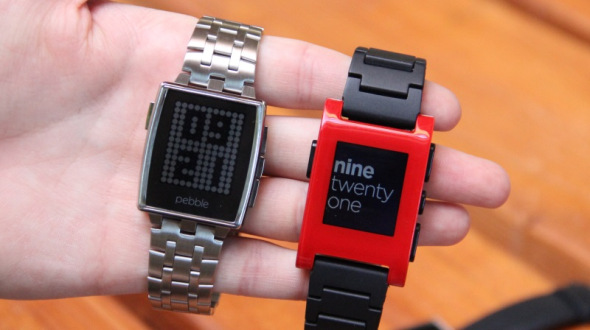 The next generation of Pebble watch to be named ad Pebble Steel will be offering much to the consumers with dedicated app store optimized for existing Pebble smartwatch.
The new Pebble Steel watch will pack Corning Gorilla Glass display and offers better build quality than the original Pebble. It will be made available in two variants of Matte Black and brushed stainless costing $249 for each. This will be $100 cheaper than the original metal made Pebble.
Design: Apparently looking closer, both of them are with same design and even the same buttons but only the material has been changed. So the question remains? Will it be the perfect Samsung Galaxy Gear alternative or does Galaxy Gear 2 will sweep away the likes received by Pebble Steel.
Also Read – 5 Reasons to Buy Smartwatch in 2014
Expected availability is confirmed to be January 2014 as early in United States, United Kingdom and other European countries.
Via