In this guide check out how to perform backup of Android smartphone and tablets without rooting using Simple ADB Backup tool.
Backup for anything in real life can be handy. Since your Google's Android mobile OS is an open source platform you can update to the latest version of the Android and also try new custom firmware which are actually third party software's compatible with your smartphone. But before you try it out any of the custom firmware's, its very much essential to backup data of your existing smartphone. This is required because if anything goes wrong during the update, you can revert back to previous version.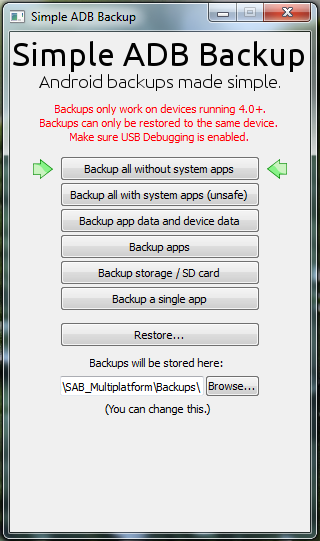 ClockWorkMod Recovery is one of the widely used tool to take a backup of your Android tablet or smartphone. But CWM Recovery only works on rooted devices i.e. your phone should have access to admin files and this is out of scope for normal users who don't have much knowledge. Feasible option for them would be to use the newly available Simple ADB Backup freeware tool.
Simple ADB Backup is another free tool to take complete backup of your Android device without the need of root on the devices. But there are some conditions as all the smartphones aren't compatible. One of the major requirements is that it supports smartphones which are with Android 4.0 Ice Cream Sandwich and higher. Backup can be restored only to same smartphone. To perform backup you should enable USB debugging on your smartphone.
The following things you can do using Simple ADB Backup –
Backup all without system apps
Backup all with system apps
Backup app data and devices data
Backup apps
Backup storage/SD card
Backup a single app
Restore