Long ago transparent phones were picking of concept phones designers and they thought it would be Nokia who would be coming out with first transparent smartphone in the market. Things have changed so fast, Nokia is nowhere near the top 5 smartphone sellers. We hear more about transparent smartphones going through 2013 as they are ready to make cut officially by the year end.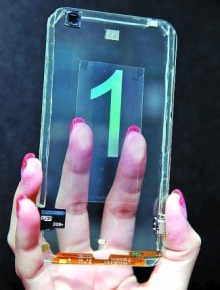 Taiwan based smartphone company has come up with rumours of preparing their first ever transparent smartphones more close to Samsung OLED displays. Moreover company has unveiled prototype of the device with transparent body although it's a mockup. Certainly this prototype will keep them busy this year as this will make OEMs excited about the technology being innovated by Polytrons.
Polytron has shown the prototype of the device with the actual hardware although no words have been said on operating system whether it will be Android or Windows or will they come out of their own OS.
It will have a micro SD card slot and top of it will have micro SIM card slot and a bunch of watch batteries which are more visible on the transparent phone. The microphone chip is located very close to micro SD card slot. All these are visible in prototype but actual design will cover all these. On top we see micro camera and a microphone.