With new markets such as China and India Amazon Kindle has broken into, more and more folks now have access to Amazon Kindle eReaders. Although Amazon enormously restricts readers to its own eco-system and that Kindle Paperwhite as well as other E-ink Kindle models only accept Kindle's own eBook format, there are indeed some tricks you can follow to maximize your Kindle journey.
1. Never miss any well-written free Kindle books
Undoubtedly, all Kindle owners are those who love reading more than anything else (a bit exaggerated though) and won't want to miss any good free Kindle books. Since Amazon releases hundreds of free books everyday, how can readers figure out those worthy reading effortlessly? My suggestion is to subscribe to several free-Kindle-book download sites, such as hundredzeros.com, pixelofink.com and fkb.me.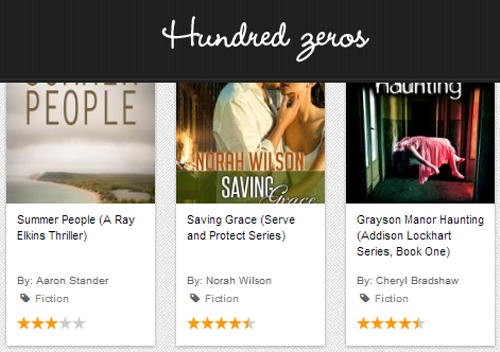 Many of these sites sort the hottest free Kindle books by category with user ratings and reviews included, so that readers can easily find the books they are interested in.
2. Install apps and play games on Kindle
Unlike Kindle Fire tablets, E-ink Kindle eReaders are typically known as pure eReading device for pure eBook reading and can't have apps installed. However, this is not the fact. Actually, Amazon has specialized active content (also known as game apps) for black-and-white Kindle devices. People can easily install these apps on their Kindle and play when getting tired with eBook reading.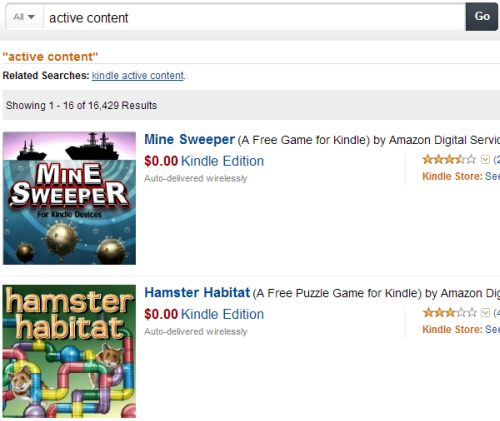 To install games on Kindle, you can go to Amazon site, search for "Active content", select one app and the destination Kindle device, then click "Buy now with 1-Click" to purchase. There are many free active content items available which people don't need to pay for.
Switch to Kindle and check. The newly purchased game app will display on the home screen with "Active Content" chars labeled. Tap the item to download and install.
Note that active content may be only available for US users. To use active content on your Kindle, make sure your Kindle is registered with a US account (applied from Amazon.com).
3. Transfer books Kindle with/without a USB cable
Generally, purchased Kindle books will be synced on Kindle automatically. However, when we want to transfer personal books to Kindle or the Kindle device fails to get synced due to some unknown reason, we will have to transfer books to Kindle manually.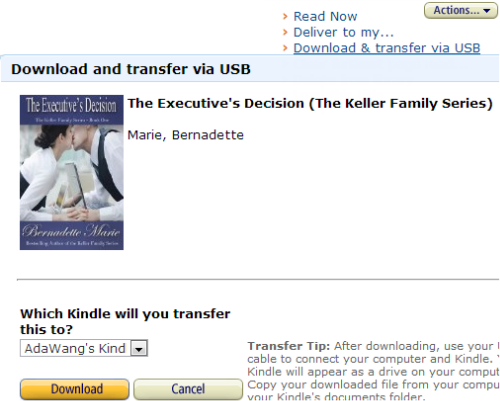 Case 1: Transfer personal books to Kindle
Make sure your personal books are in MOBI or PDF format. Then you can either copy the MOBI file to Kindle with the USB cable or wirelessly send the MOBI book to your Kindle device address (Send-to-Kindle, which can be found under Kindle "Settings") to transfer your personal books.
Case 2: Transfer purchased books to Kindle
When there is a connection error on the Kindle device or your Kindle fails to get synced, you will have to transfer the books manually. Go to Amazon, "Manage Your Kindle" to find your purchased Kindle items. Click "Actions..." button on the right-hand side to download the book to your computer. Copy and paste the downloaded AZW3 books to your Kindle storage with the USB cable, you will be able to open and read.
You can also refer to this post for more details concerning how to transfer books to Kindle.
4. Customize your Kindle book cover
Purchased Kindle books often come with professional yet pretty book covers. When an eBook is converted from another format, such as EPUB, the book cover may be fairly ugly. Then you can rely on free Calibre to customize the Kindle book cover.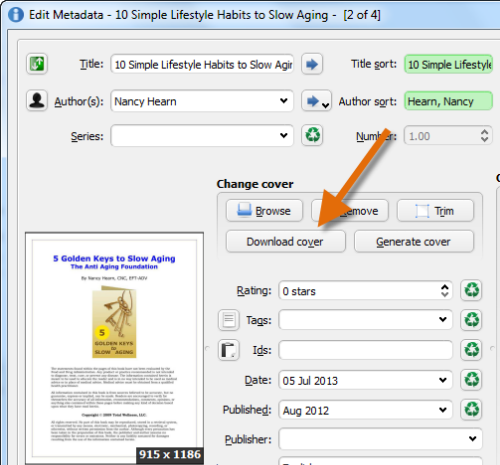 Add the book to Calibre, select "Edit metadata" on the top navigation bar, click "Download cover" under "Change cover" section then choose a cover from a collection of downloaded covers. When the cover is replaced, remember to convert the MOBI book to MOBI again. You will find the book cover successfully integrated within the MOBI book.
5. Share Kindle books with family / friends
People hope to share Kindle books at times. Although Kindle books are mostly DRM-protected, people do have ways to share their Kindle books with family members or friends. A traditional way is to check whether the book is lendable (Go to "Manage Your Kindle" -> "Actions..." to check).
As long as it is lendable, people are able to loan it to others for a span of 14 days (a book can be loaded up to 2 times). A more flexible way is to get the Kindle books decrypted. Professional Kindle DRM Removal tools include ePubee (free) and Epubor Kindle DRM Removal.
6. Take actions when your Kindle is slow
When you have used your Kindle for a long time, you may find it running slower. In this case, many readers will think of deleting unwanted titles from the device or even go to "Manage Your Kindle" to delete the books for long. However, this won't work much especially when you download several more books to the device again.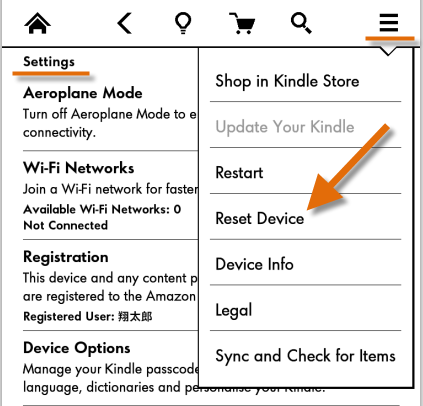 A recommended way is to reset your Kindle. Don't worry about the content on your Kindle. Before the reset, backup your personal books by copying all the folders & files under Kindle storage to your computer. As to purchased items, they will stay under your Amazon account and will go back to your device (on cloud) again as long as your Kindle is re-registered after the reset.
Now go back to the home screen on your Kindle, tap the setting icon in the top right corner, choose "Settings" -> "Settings" icon (in the top right corner) -> "Reset Device". You will find your Kindle run much faster after a factory reset.
About the author
Guest Post by Ada Wang: Ada Wang works for Epubor, which delivers eBook-related solutions to customers. In the meantime, she writes blogs concerning eBooks, eReaders and popular electronic gadgets for a collection of blogs.