Samsung Galaxy S4 in United Kingdom unlike other countries will be available on April 26 as planned. If you are from UK, then go through the following network operators selling all kind of Galaxy S4 variants like unlocked, 4G LTE, 3G model. Also if you are not from UK, you can check out Galaxy S4 availability in your country.
EE
Everthing Everywhere was the first carrier in United Kingdom to show up interest on Galaxy S4. EE now covers 50% area in United Kingdom and their 4G plans starts at £31 per month. You need to make an upfront payment of £ 269.99 to get Samsung Galaxy S4 and in return you get accessory pack worth £ 54.99 with inclusion of phone cover, 16 micro SD card and car charger.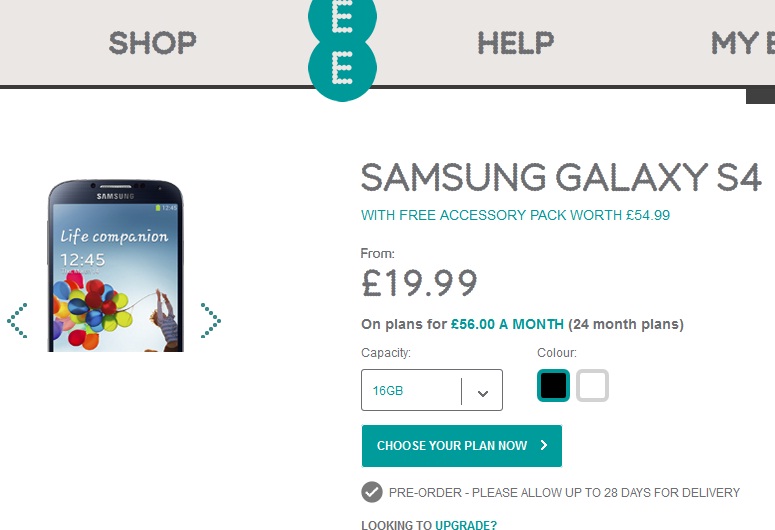 If you are not interested in 4G LTE model then you can get 3G only model via T-Mobile & Orange in coming days, no price has been revealed.
Carphone Warehouse
Carphone Warehouse is offering Galaxy S4 16 GB model at £629.95 SIM free with free Galaxy Tab 2 & £84.96 worth accessories (Check Galaxy S4 official accessories list). If you choose £41 monthly plan then you get handset for free along with all those free accessories, Galaxy Tab 2 offer.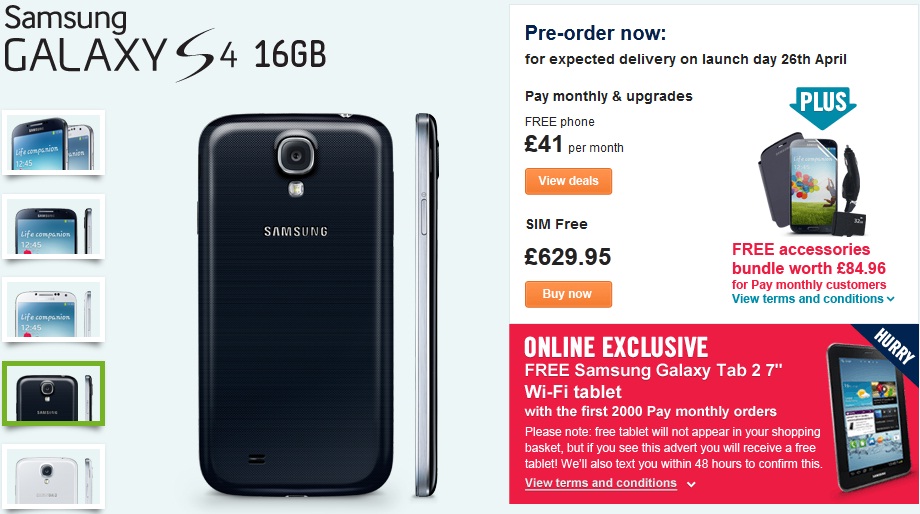 Check Galaxy S4 Carphone Warehouse price, discount.
Vodafone UK
Vodafone UK will come out with White/Black color variants available from April 26 and they have an exclusive deal in which you trade your any working touchscreen phone(not necessarily Android phone) to save £ 5 a month. So you get Galaxy S4 4G LTE phone for free just £ 47 & £42 monthly plan providing unlimited minutes, texts & 4 GB, 2 GB UK internet respectively.
If you are opting for £37 monthly plan then you need to pay £69 as handset cost. Check Vodafone UK Galaxy S4 Price, plans.
Phones4U
Pre-order Samsung Galaxy S4 at Phone4u and you can stand in for a chance to win Samsung Galaxy Note 8.0, Galaxy Camera as well. With every pre-order you get Google Play gift card. At Phone4U you need to choose from any of the carriers and if you opt for 4G EE £46 or above monthly plan you get £100 voucher, £41 contracts gets £50 and £36 contracts receives £25.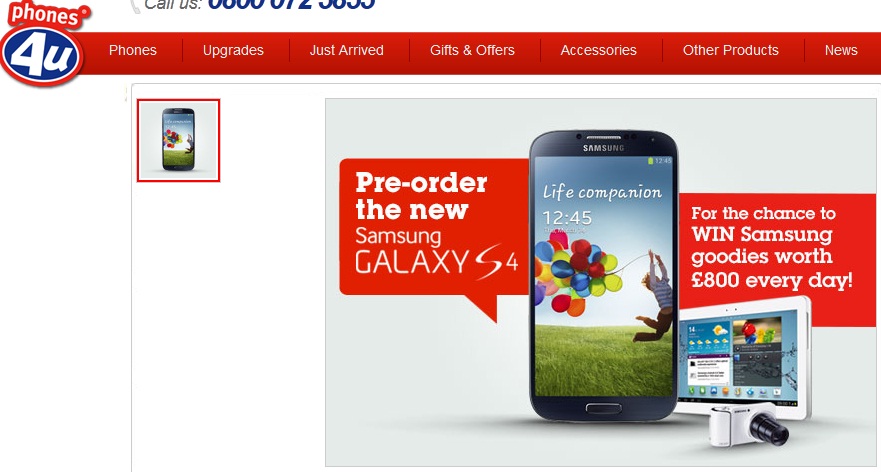 Check Phones4U listing of Galaxy S4.