Samsung Galaxy S4 GT-I9500 is the latest Galaxy Phone introduced by Samsung Electronics the smartphone giant worldwide. So called as the successor of Galaxy S3 and the flagship Samsung phone will be available 155 countries via 327 carriers. If your first impression of Galaxy S4 is the same device as Galaxy S3 then let me tell you that you are on the wrong mindset. Makers have kept the same style but they have gone through crucial tweaks of improve user experience, fit, finish to make it as a complete "Life Companion".

Quick Jump: Design | Hardware | Battery Life | Software | Camera | Conclusion
You are probably on to this blog post at Technos Amigos because of confusion whether to opt for Galaxy S4 straightaway or better wait. If you have confusion in choosing smartphone, here are the top reasons why you should buy Samsung Galaxy S4 GT-I9500 -

Bigger, Better Full HD Display
Samsung Galaxy S4 GT-I9500 comes with 5-inches 1080p full HD Super AMOLED display with pixel density standing at 441 ppi. The Korean giant has emphasized more on display quality and it's the first Galaxy phone to sport 1080p full HD display panel.
Corning Gorilla Glass 3 Protection
Samsung has opted for Gorilla Glass 3 display protection which sits just below the edges of the screen. This is a major improvement in designing the successor and it makes the screen less vulnerable than Galaxy S3 phone. So chances of surviving of GS4 of sudden drops from your hands are higher. Here is the video demonstrating Corning Gorilla Glass display -
Better Design and Build Material
Samsung choice of opting for plastic polycarbonate design similar to Galaxy S3 might not be pleasing everyone. Its Samsung long tradition to keep metal away and the newer Galaxy phone is supplied with improved build quality to make it stronger make it feel like solid. But still we prefer HTC One with high-graded aluminum build quality.
Synaptic ClearPad  for Extra Sensitivity
Galaxy S4 includes advanced capacitive touchscreen display featuring "3D Touch". This new technology provides users to touch the screen while wearing gloves and for this you should activate "extra sensitivity mode" found under settings. So wearing gloves in coldly conditions(normal weather in Canada) the phone can still detect your fingers from up to a distance of 2 cms away.

For Amazing Camera
Samsung Galaxy S4 one of the most impressive feature is its camera. According to official specs, it has 13 mega pixel camera on the rear side with LED flash providing 4128 x 3096 pixels captured image resolution. Primary camera can record 1080p full HD videos at 30 fps and we might not need to tell you the importance of front facing camera as it boards 2 mega pixel secondary camera again with 1080p full HD at 30 fps supporting dual video calls.
Time for Octa-Core Phones
Generally all the flagship phones features the best components available during the time of release. Samsung Galaxy S4 is no exception to that as it continues to evolve in performance and benchmarks. Interestingly Samsung has designed it in two flavors of processor speed. One uses the 1.9 Ghz Qualcomm Snapdragon 600 chipset and other debuts Samsung's Octa-core Exynos 5 chipset clocked at 1.6 GHz. Although Exynos 5 provides 4G LTE connectivity, US carriers have opted for Snapdragon powered model. Paired up with Adreno 320 GPU and 2 GB RAM it provides outstanding results which can easily beat other flagship phones.
Below are the results of various tests on Galaxy S4 –
Quadrant 2.0 Score – 12, 684
Vellamo 2.0 Score – 1903
AnTuTu 3.x Score – 26, 143
SunSpider 0.9.1 Score – 772
GLBenchmark Egypt 2.5 HD Offscreen (fps) – 39
CF-Bench Score - 28,111
Android 4.2 Jelly Bean with TouchWiz UI
Its runs on Android 4.2 Jelly Bean operating system version which is the latest version of Google's Android mobile operating system. But you will not get full stock Android 4.2 experience as Samsung has gone through proprietary TouchWiz user interface on it. Most of the Samsung users moving from predecessor will appreciate the improvement on TouchWiz and features added.
Supports Wireless Charging
Lumia 920, Droid DNA and Nexus 4 all have made its way to the list of devices with wireless charging capabilities. We would like to hear more about wireless charging capabilities on Galaxy S4 from Samsung eventually as they plan to sell an optional back cover with Qi wireless charging capabilities built-in. This will cost you $ 50 additionally and I hope you will never mind to spend few bucks to bring in the wireless charging feature.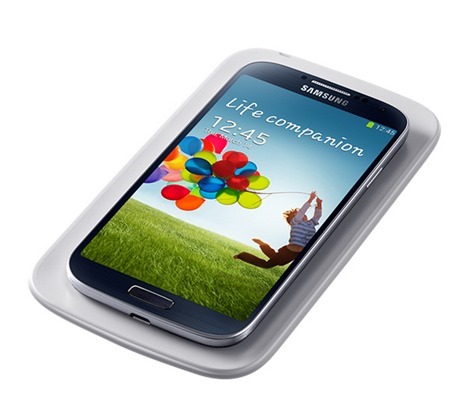 GamePad for Gaming
Samsung has also announced GamePad along with Galaxy S4 a gaming accessory. GamePad is compatible with any of the smartphone up to screen size of 6.3 inches. So just like normal gaming consoles, it has joy sticks. So with Galaxy S4 you can hold it vertically as seen in the image and play your favorite game.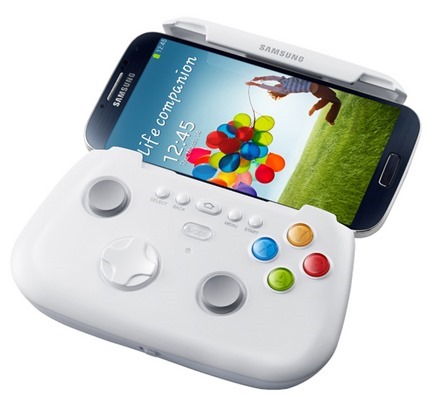 Add Audio to Your Photos
Probably no other phones would have this feature as Galaxy S4 has. Introduced for the first time on Samsung phones, using Sound and Shot feature you can add audio to photos captured via beautiful 13 mega pixel camera. So your phone will not speak what was said and heard at the moment of taking the particular photo.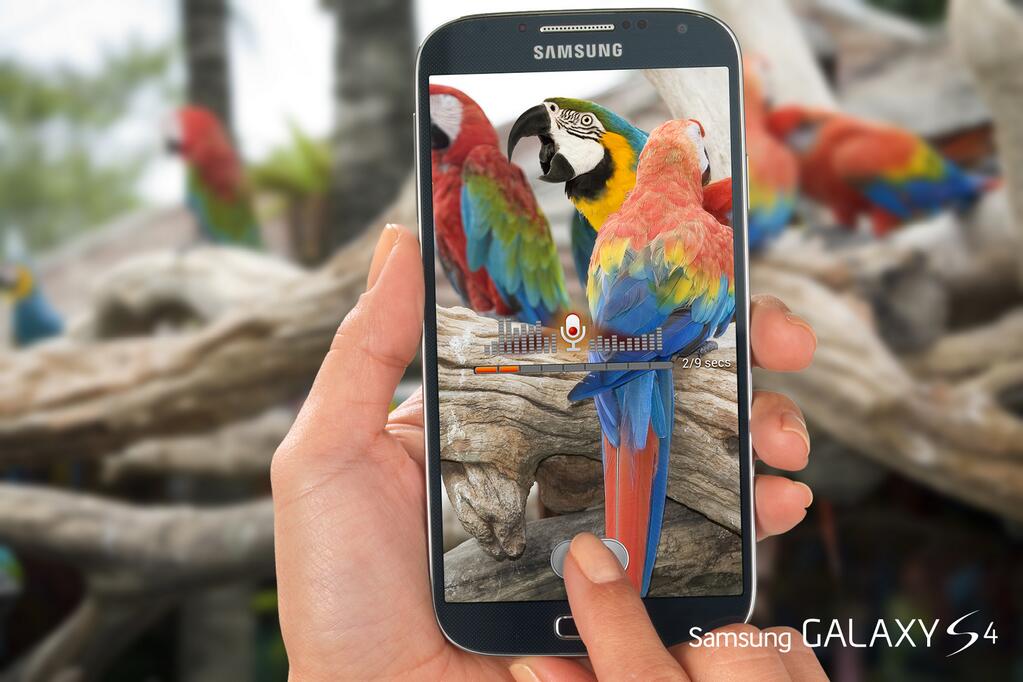 Dual Shot
With Galaxy S4 you can make use of dual cameras at once to record dual shot pictures as seen in the picture below.
S-Voice Commands
Galaxy S4 includes voice controlled features via S-Voice app. As of now the most important ones are covered. Under S-Voice Settings you need to enabled "Control apps" and you are ready to have a bang with the following –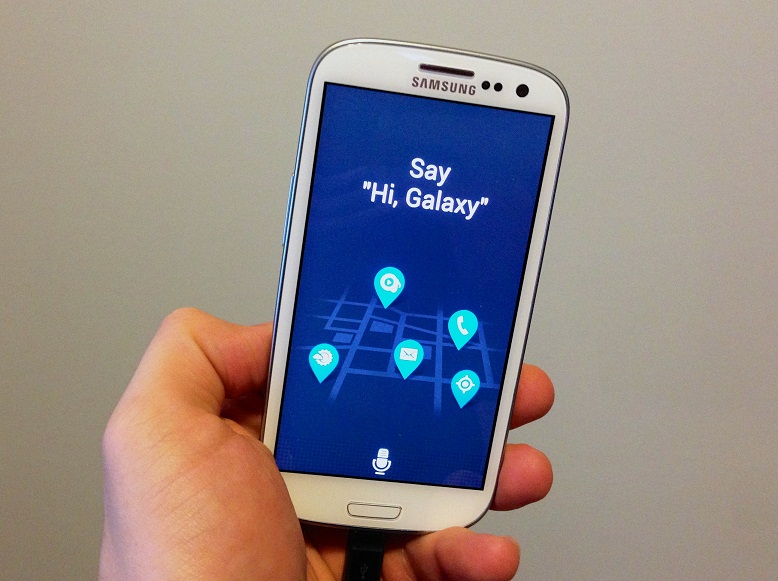 Camera: Just say SHOOT and it will take the picture of yours.
Music Player: You can control music player directly as well. So with commands like Play, Pause, Next, Volume Down, Volume Up, Previous and Resume you have control on music player.
Phone Calls: You can say ANSWER to answer the call or REJECT to deny any calls. If you say ANSWER the phone will be on Speaker mode by default.
Alarm: You can stop or Snooze alarm by saying commands like STOP and SNOOZE.
Control HDTV via Built-in IR Support
Moving on from Galaxy S3, Samsung has added considerable number of features. One of them is the built-in IR support using which you can control HDTV with Samsung TV software.

Better Optimized Battery Life
Pumped up with 2600 mAh Lithium Polymer battery without addition much size or weight to the device. It's a good equivalent addition because of higher resolution screen, better camera and powerful processor (highest battery consuming processes). For a normal day use it can easily survive a full 14-15 hours of usage on a single charge taking up messaging, web surfing, photos, videos and high-end games.
S Translator App
Galaxy S4 includes S Translator app which is basically a Google Translate for Samsung devices. So if you are in a place or with people who don't understand your language, S-Translator might be useful but it requires data connection on your phone to work. If you want replacement which works offline, then nothing can be better than Google Translate.
Galaxy S4 Easy Mode
Galaxy S4 introduces Easy Mode on Samsung Android phones. Using this phone, it display larger icons with simple layouts making it easier to navigate for less tech-savvy folks. So Galaxy S4 isn't designed for people who wants high-end features but also ports compatibility for people who are new to high-end smartphones like Galaxy S4.
Galaxy S4 Group Play
Samsung's Group Play is quite similar to Homegroup feature found on Windows 7. Using this you can share music, share pictures, documents and play games without the need of online multiplayer server. For Group Play to work, you should be connected to single Wi-Fi access point.
Traditional Galaxy Note Feel Without Need of SPen
Performing SPen specific task like Google Calendar, emails, Flipboard, photo gallery and browser text which can be accessed via finger touch thanks to Wacom digitizer & Air View, means no need of S-Pen.

Quick & Longer Software Support
Supplied with Android 4.2 Jelly Bean version out of box, we see Galaxy S4 among the early devices by Samsung to receive the future software update. So after few minor updates on Android 4.2.2 it will be the major Android 5.0 Key Lime Pie update before end of the year.
Buy It
From where to buy it? If you are in India, Flipkart provides the best discount, check flipkart listing -