China based smartphone makers are slowly making an entry into India market as India is the second largest smartphone market in the world. After Umi, it turned out to be Gionee who has come up with another low cost quad core phone. Dubbed as Dream D1, it's one of the cheapest quad core phones available in India. Micromax Canvas HD A116 and Karbonn Titanium S5 are the better competitor to Gionee Dream D1.
Listed here are the few reasons why you should buy Gionee Dream D1 phone –
Optimum Display Screen
Not all users would like to go with 5 inches phablet phone, this is the reasons why still Apple is with 4 inches or less display screen size. Gionee still thinks that 5 inch display is too large hence, Dream D1 features 4.65 inches Super AMOLED Plus display screen with Gorilla Glass 2 protection found on most of high-end smartphones. The display provides 1280 x 720p HD resolution with pixel density standing at 316 ppi.
Quad Core Processor
We all want our phone to be powerful without any lags in between. This is why quad core smartphone are made for. Gionee Dream D1 features 1.3 Ghz Cortex A7 quad core processor and supported with 1 Gb RAM storage providing lightning fast 3D games, multi-tasking.
Enhanced Audio
It comes with built in DTS i.e., Digital Theatre System providing enhanced audio output.
Dual Camera
Since smartphones are handheld devices, camera features is widely used to capture photos of day to day life and it's quite helpful in routine life. Dream D1 includes 8 mega pixel camera on the rear side with 1080p full HD video recording and there is 1 mega pixel camera on the front side as well which can be used for face to face video chat. With rear camera you can capture 99 shots in one click.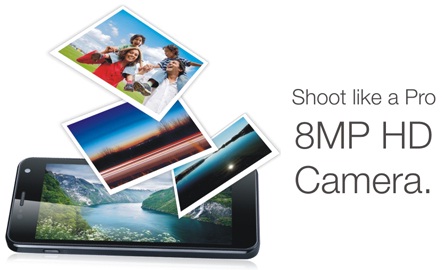 8 mega pixel camera phone at Rs 18,000 is a good deal. Micromax A116 has 8 mega pixel camera as well but Galaxy Grand priced at Rs 21,000 is supplied with 5 mega pixel camera.
Battery Life
A significant role in smartphone is played by battery. While all the 5 inches display phones included 2100 mAh battery, Gionee also includes the same battery specs but since it features 4.65 inches display it's a good addition. With 2100 mAh rechargeable battery you get 24 hours of moderate usage time on a single charge. Furthermore with optimization you can increase battery life. That's pretty good considering that 3G network consumers much battery life.
Some Cons: Finally few cons exist as there will not be any Android update delivered to this phone, not officially but everyone knows this.
Where to Buy
Gionee Dream D1 Phone
Gionee Dream D1 phone is available for purchase via online retailers. Here are the sites from where you can order Gionee Dream 1 Phone.
Official Gionee Site: It available for direct order online via their official site. You can get in touch with Gionee team at 1800 208 1166 toll free number.
Update: This phone is officially discontinued by Gionee.