Micromax, the #1 India based smartphone brand in India has come up with their latest flagship smartphone. Dubbed as Canvas 4, it's the fourth and the latest addition to Canvas series of smartphones.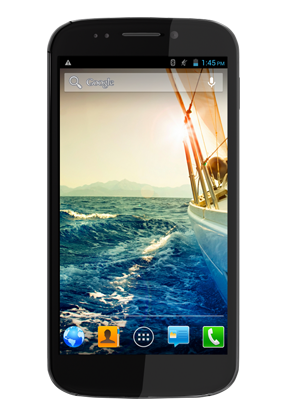 Micromax Canvas 4 A210 is available for pre-order from June 28 but specs of the devices have been revealed. It's priced a Rs 18,000 and it will compete few flagship phones like Samsung Galaxy S4, Sony Xperia Z & HTC One, but we think Micromax has a long way to go before we compared it with global brands. By paying Rs 5,000 you can pre-order the device
Listed here are the 5 reasons why you should buy Micromax Canvas 4 A210 phone this season –
Canvas 4 Design
Micromax is excited about Canvas 4 and without any doubt it's the flagship Micromax phone. It comes with anodized aluminum body which measures a thickness of just 8.9 mm.
Canvas 4 Shoot to Thrill Camera
While Micromax Canvas HD had 8 mega pixel camera with HD recording, Canvas 4 goes bigger and better. It brings 13 mega pixel camera sensor on the rear side providing 1080p full HD video recording allowing users to shoot panorama from both sides (top to bottom and left to right). Micromax has incorporated Sony stacked image sensors for both front and rear cameras and we know how beautiful are the Sony camera. The continues shoot feature will allow you to take 99 shots in a single click.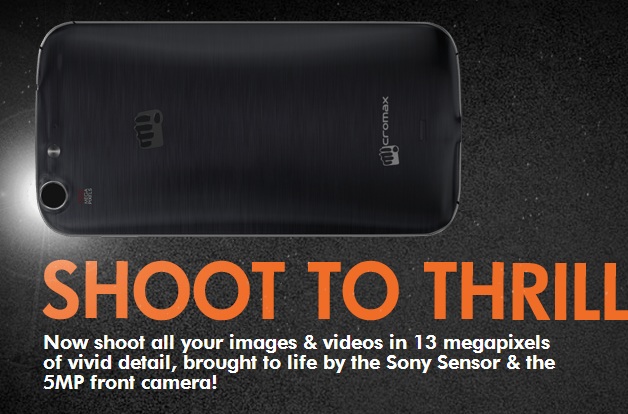 Canvas 4 OS
Micromax brings Android 4.2 Jelly Bean OS the latest version of Android on Canvas 4 phone. Android 4.2 Jelly Bean version is lighter, butter crisp and ideal for multi-tasking.
Canvas 4 Blow to Unlock
Never seen on any phone before, Micromax brings blow to unlock feature on Canvas 4 phone. Using this feature if you blow air on screen or shake your device, it will get unlocked, so no need of password and other security stuff.
Canvas 4 Price
Do you how much you should afford to have these specs in Samsung, Sony or HTC Phone? Atleast 25,000, nothing less than that. Micromax is providing it for only Rs 18,000. Go for it guys, alteast have a comparison, think and decide.