Ask what can you get for INR 251 and most Indians would be like Airtel 3G pack, 1 KG brown basmati rice or some random routine object. Ask them about a budget smartphone that offers best value for money and they will come up with varying options ranging from Motorola to Micromax, all of which would set you back by atleast INR 4000 – 5000. Put INR 251 and a smartphone in the same sentence and they will be like say whaaaa and get busy picking up their jaws from the floor.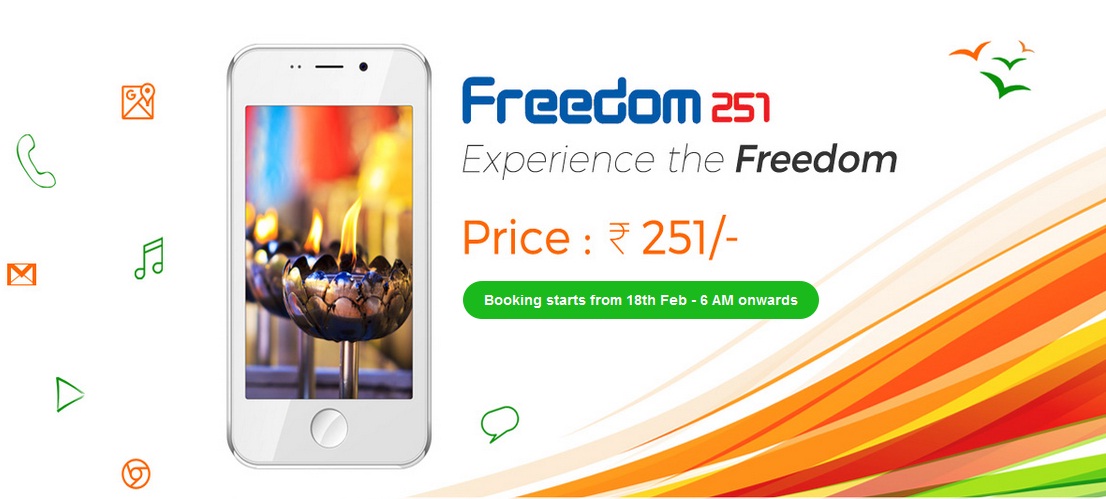 Noida-based tech firm, Ringing Bells has managed to achieve the unthinkable with its latest smartphone called Freedom 251. Do not ask us to how the brand has managed to price the handset so low with specifications like that as magicians never reveal secret of their tricks. However, there is a notion that parts and manufacturing of the smartphone has been subsidized and though you are just paying INR 251 upfront, the rest of the cost is being pulled out from taxpayers pockets just like the bunny from a hat. Subsidized or not, Freedom 251 is still a revolution and a huge prop for Make In India campaign. Here we take a look at why this handset is being touted as the one weapon arsenal to fulfill Digital India vision of our PM.
Price
Because, lets admit it, the only reason we are considering a device like this from a nameless brand based in UP is for its ridiculously low price tag. We mean, you can buy cables, chargers, case and even OEM batteries at this price but a whole smartphone for INR 251 is an altogether different ball game, even for India. This will encourage everyone in India and their kins to get one and stay connected to each other at convenience. We have already mentioned that the ridiculously low price could be the result of subsidy but we do not care as long as the handset comes for INR 251.
Specifications
What specifications would you expect from a device that is as dirt cheap as this one, certainly nothing fancy. However, Ringing Bells have again managed to outdo themselves on the specifications front as well. This smartphone comes with no less than Android 5.1 pre-installed in it, which is huge since many budget segment smartphones are still plying Android Kitkat operating system out of the box. Coming to processor, it boasts of a Quad-core processor with a clock speed of 1.3 GHz and 1 GB of RAM. There is 8 GB of internal storage in this smartphone with support for up to 32 GB using a microSD card. It features a 1450 mAh battery, which might be slightly weak but what more do we expect at this price. Another pleasant surprise is that the smartphone features both front and rear camera with 0.3 and 3.2 Megapixels resolution, respectively. This is when most entry-level budget smartphones do not even feature a front camera.
Design
First looks of the handset are already out on the official website of the device and it looks far much more premium for a device at this cost. It comes with polycarbonate make and bar form factor with Indian tricolor painted on the rear panel to put emphasis upon Make In India campaign. However, at first glance on its front panel, it is easy to mistake it for an iPhone 5s and at INR 251 we are not complaining. The front panel of this smartphone features a 4-inch display that offers a resolution of 540 x 960 pixels, which is yet another pleasant surprise.
Warranty
After reading everything we have told you so far, you must be wondering certainly there has to be some catch, maybe it does not comes with a warranty. If this thought is what is putting you off than we assure you that it is perfectly okay to go ahead and get this handset while you still can. We say this with confidence as Ringing Bells is offering One Year Warranty with the smartphone like any other brand in the handset market. Therefore if you are skeptical that the phone might be problematic and develop issues, you have the warranty to get a replacement or the issue sorted for free of cost at any of their 650+ service centers.
Digital India
This is probably the biggest reason why anyone could possibly think of Freedom 251 as a revolution in the Indian handset market. Ringing Bells has already stated that they launched this smartphone to align with PM Narendra Modi's vision of digital India and empower every last one of the Indian population with connectivity. Certainly, with the price tag so low, anyone from a beggar to aristocrat can afford one. This will help in the digital empowerment of India and result in India being a digital superpower.
While Freedom 251 has certainly got everyone to stop in their tracks and wonder about how it has been achieved, there are several stigmas attached to the handset as well. There are rumors doing rounds that the handset has not been approved with the Bureau of Indian Standards (BIS), which would have increased the price and is thus unsafe to use. Whatever it may be the handset is bound to be a roaring success and is certainly intended for a better cause than just reaping profit.
This is a guest post created by Sanjeev who blogs about technology on PriceRaja.com blog. You can reach to him on twitter @kumarsanjeev_me
Update: This mobile has been discontinued.
This post was last modified on June 5, 2020 7:42 PM