Buy refurbished iPhone 7 and iPhone 7 Plus smartphones to get the best budget deals on the latest iPhone models.
Samsung Galaxy S7, iPhone 7 and iPhone 7 Plus are expensive gadgets. This is something that most people dream to buy but they can't because of high pricing. Have you ever dream of owing an iPhone 7 or iPhone 7 Plus? Here is how you can purchase refurbished iPhone 7 within your budget.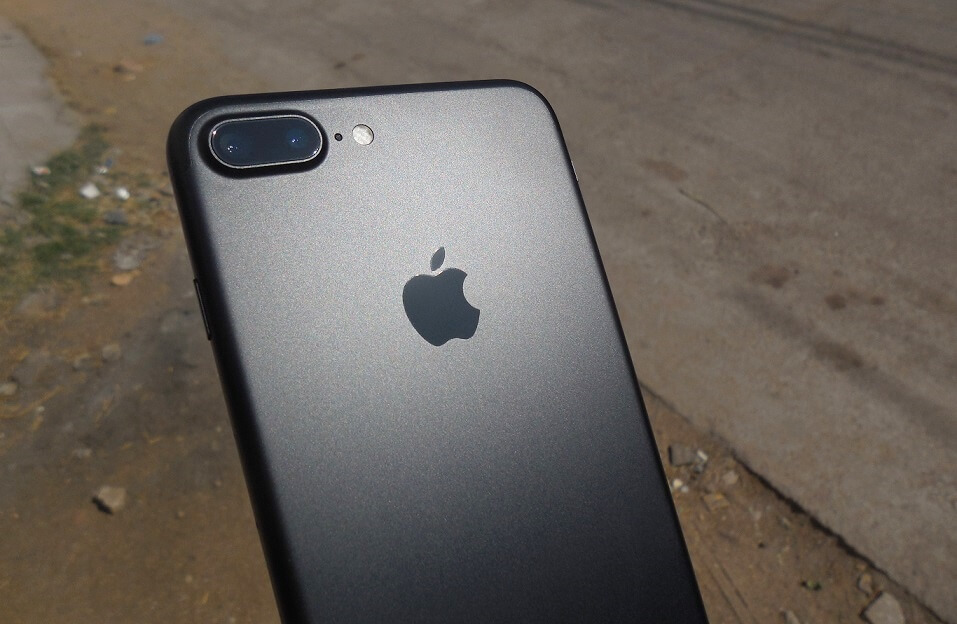 Refurbished iPhone 7
Just a couple of weeks back, we told you about the refurbished iPhone. Refurbished or reconditioned iPhone make sense because the original iPhone box piece costs nothing less than $600. At that price you can buy three units of Blu Vivo 5 smartphones. That's why Apple has plans to sell reconditioned iPhone in India where most people are ready to buy an iPhone at lower pricing.
So, how can you buy iPhone 7 in budget or even at low pricing? read further to get your answers and best deals on iPhone 7 and iPhone 7 Plus.
What is Refurbished iPhone 7?
Refurbished or reconditioned are those iPhones which are used by owners and have been returned back to sellers very shorty for one or the other reasons. Something in general terms is known as refurbished iPhone 7 or pre-owned iPhone 7 Plus. Sellers actually get it refurbished to make it almost like a new one. Yes, used and refurbished are different terms altogether, Here it's a win-win situation for both sellers and consumers because you are getting an iPhone for very standard price and sellers earns something for each unit sold.
So does it make sense to buy Pre-owned iPhone 7?
Absolutely, because used iPhone 7 price is so much reduced that it's almost half of it.
Finally let me tell you that low cost budget iPhone 7 or even refurbished iPhone 7 doesn't mean that they are fake or duplicate iPhone units. They are genuine and you can verify that by checking out used iPhone warranty. They are 100 % original, just it was pre-owned by users and returned back to seller.
Buy Budget iPhone 7 & iPhone 7 Plus
Buying an reconditioned iPhone 7 Plus or iPhone 7 units is quite easy because you can easily find them available on Amazon. Just head over to Amazon, search for the respective iPhone model and on the left side pan, select 'Reconditioned' to apply filter.
Unlocked Refurbished iPhone 7 32 GB version
As we see, the price starts from $579.99 and $640 for the 128 GB model. There is also 256 GB model too available.
Just click the banner below to checkout available units right now [Updated automatically].

Buy unlocked & Used iPhone 7 Plus 32 GB version
Just like above, there are also reconditioned iPhone 7 Plus too available for purchase.
Available Models : 32 GB, 128 GB and 256 GB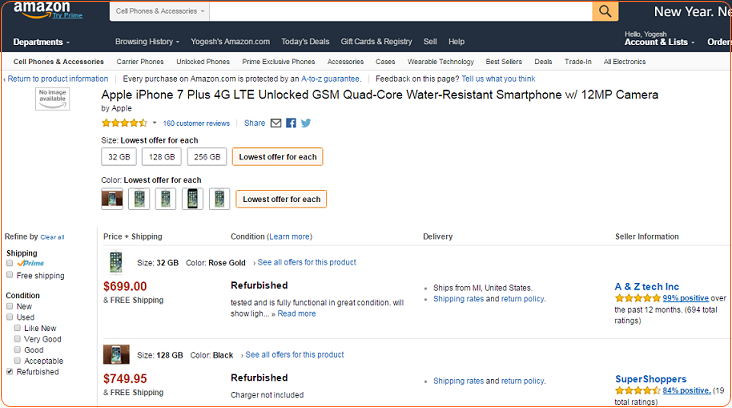 Just click the banner below to checkout available refurbished iPhone 7 Plus units right now [Updated automatically].