We have gone through Ro2.biz Review with details like payment proof, payout terms, eCPM rates.
Ro2.biz is basically a CPM network but if asked they can serve as Cost Per Click network as well. Ro2.biz Cost per Click provides 80 % revenue share to the publishers. Ro2.biz doesn't even require you to go with approval of your site as it directly accepts new publishers. With 24 x 7 support they assign one manager for each publisher account. There are since 2010 and they are the network with Steady eCPM at a maximum bid price of $2.94.
Ro2.biz guarantees of 100 % fill rate (all countries accepted) for all the impressions and they have real time reporting. Their banners for CPM have options to enable/disable pop-up, banner type ranging with/from CPM, CPC and CPA.
Reporting Interface
Once logged into the account, you will see Statistics tab. We were surprised with Ro2.biz  report system as it allows you to view your report in Chart type, Tablet repot, report by geotargeting wise, unique visitors and track clicks.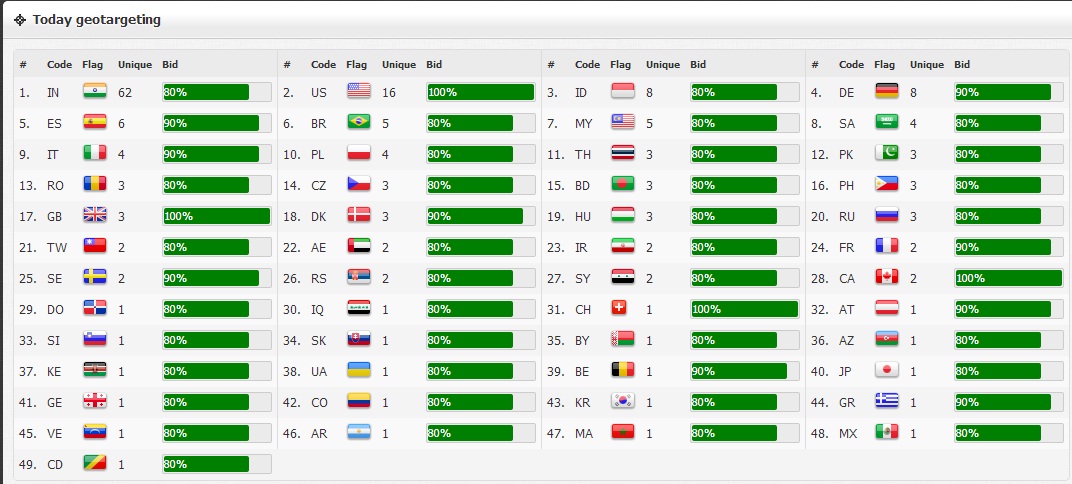 Ro2.biz Details
Publisher Minimum Requirement
No Approval Required
Commission Type
CPM, CPC & CPA
Maximum Banners/Page
3 Banners

Ad Sizes
468 x60, 728 x90, 160 x 600, 120 x 600, 300 x 250, 336 x 280

Revenue Share
80:20
Payment Threshold
$ 1
Payment Terms
NET 2 (Within 48 Hours)

Payment Method
PayPal & Wire Transfer

Contact/Support
Telephone: +40728704630
Email: [email protected]
Pros
Quick payment
Lowest payment threshold
Conclusion
With low minimum payout and quick payout time, they have gained reputation of many smaller website owners within in no time. It's certainly not a scam/fraud network, so you can trust this network completely. We complete recommend this network to you.