We have seen a lot of rugged/tough Android smartphones in past and none of them have achieved success. One of the main reasons why they are not topping the charts because of its high price. But are there any affordable rugged Android smartphones available in the market? Yes, Runbo promises to bring two of the most affordable rugged Android 4.0 ICS smartphones in the market. Spotted at the CES stage, few guys from Shenzhen brought Runbo X3 and X5 smartphones featuring some of the interesting specifications. Apart from that Runbo X1 too were shown featuring the less interesting specifications.
Runbo X5
What has caught up our attention is Android powered X3 and X5 smartphones. Firstly, going through Runbo X5 it features 4.3 inches IPS touchscreen display providing a maximum resolution of 800 x 480 pixels. It has 1 GHz Cortex A9 dual core processor with MTK6577 chipset, 1 GB RAM and comes with 4 GB inbuilt memory storage along with a micro SD card slot. Equipped with a dual camera – 8 mega pixels on the rear side and 0.3 mega pixel on the front facing side, provides beautiful pictures capturing capabilities and 3800 mAh battery is large enough to power the device for few days of continuous usage.
It will be a dual SIM smartphone with WCDMA + GSM internet access. Special features include walkie-talkie radio with detachable antenna in 400 to 470 MHz reception can be used within 10 kms range. So this walkie talkie is compatible with any transmitter with the same frequency range. Alongside with that it features Wi-Fi, Wi-Fi tether, Bluetooth 3.0 and GPS.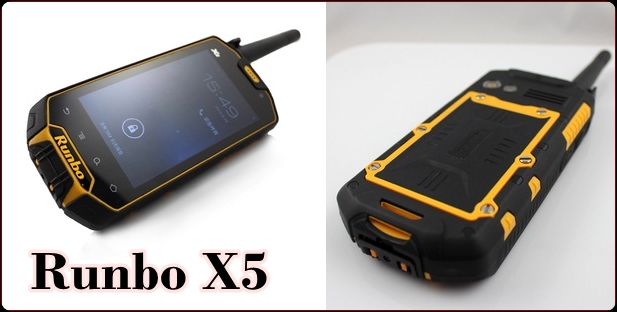 Runbo X3
Runbo X3 is the smaller brother of X5 smartphone that we have seen above. Except 3.5 inches display seen on the X3, remaining features are kept one and the same. Both X3 and X5 smartphones are not similar in looks. X3 smartphone features QWERTY keypad and both these devices receives IP 67 certification of being water, dust & dirt resistant device which can be submerged in water to a meter depth for about 30 minutes maximum.

And lastly Runbo X1 is another device featuring IP 67 certifications, walkie-talkie along with 2 inches display screen with 176 x 144 pixels display. There is 0.3 mega pixe front facing camera, laser pointer, loud speaker, 2200 mAh battery. It will be also available in variant of GPS enabled.
It's sold in China via Taobao site at a price of $ 160 for X1, $ 320 for the X3 smartphone. For pricing check this link.
Runbo X1 can be purchased from here costing $210.