Android 5.0 is the latest version of Android out seeding Android Kitkat. So with that official announcement puts an end to Android 4.5 rumors and the new devices picks up number 5. So in future there will be Android 5.0.1, 5.0.2, 5.1 and 5.2 updates.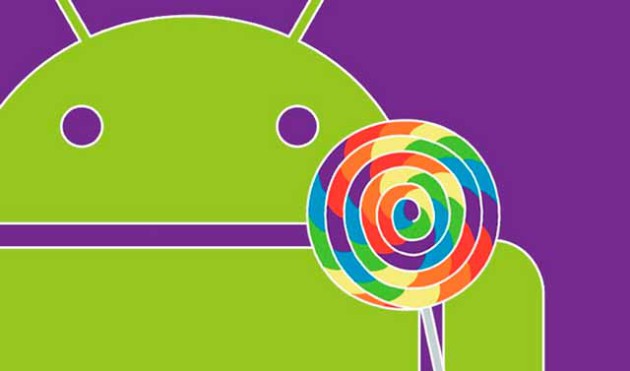 Samsung Android Lollipop Update
While HTC Nexus 9 and Motorola Nexus 6 are only the two devices running up Android 5.0 Lollipop, there will be many more devices added to the list, thanks to it's ability to run on low-end smartphone as well.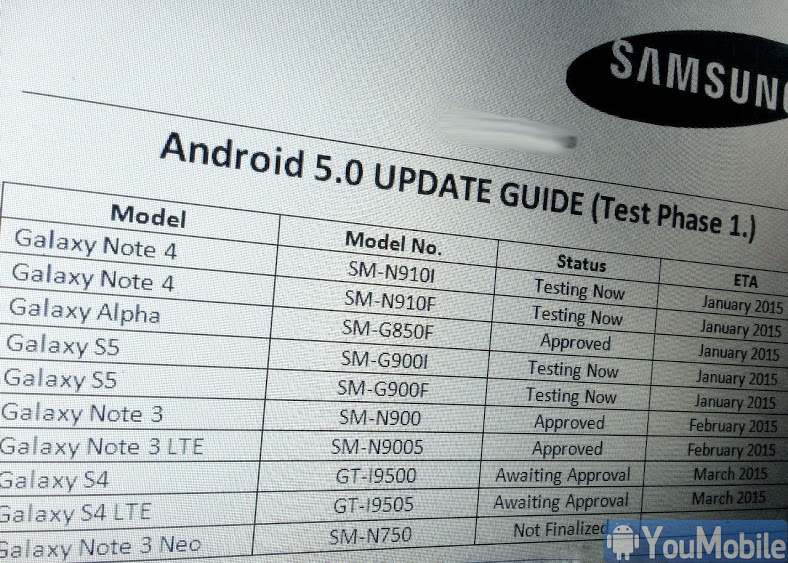 Among the Samsung Android phones front-runner to get Android Lollipop update, it will be Galaxy S5, Galaxy Note 4 and Galaxy Tab will be seeing through it this year.
The complete list of eligible Samsung Android Lollipop update devices is mentioned below -
| | |
| --- | --- |
| Device Name | ETA |
| Nexus 10 | Already Available |
| Samsung Galaxy Note 4 SM-N910I | Available |
| Samsung Galaxy Grand Max | Q2 2015 |
| Samsung Galaxy Note 4 SM-N910F | Available |
| Samsung Galaxy Note 3 | Available |
| Samsung Galaxy Note 3 Neo | Available |
| Sprint Samsung Galaxy S5 | Released |
| Samsung Galaxy S5 SM-G900I | Q1 2015 |
| Samsung Galaxy S5 SM-G900F | Q1 2015 |
| Samsung Galaxy S4 GPE | November 2014 |
| Samsung Galaxy S4 GT-I9500 | Q1 2014 |
| Samsung Galaxy S4 LTE GT-I9505 | Q1 2014 |
| Samsung Galaxy Alpha | Q1 2015 |
| Samsung Galaxy Note Edge | Q1 2015 |
| Samsung Galaxy S5 Mini | Q2 2015 |
| Samsung Galaxy K Zoom | Q2 2015 |
| Samsung Note 3 SM-N900 | Q2 2015 |
| Samsung Note 3 SM-N9005 | Q2 2015 |
| Samsung Note 3 Neo SM-N750 | Q2 2015 |
| Samsung Galaxy Note 2 | Q2 2015 |
| Samsung Galaxy S4 LTE-A | Already Available |
| Samsung Galaxy S5 Sport | Q2 2015 |
| Samsung Galaxy Tab S 8.4 | Q1 2015 |
| Samsung Galaxy Avant | Q2 or Q3 2015 |
| Samsung Galaxy Tab S 8.4 LTE | Q2 2015 |
| Samsung Galaxy Tab S 10.5 | Q1 or Q2 2015 |
| Samsung Galaxy Tab S 10.5 LTE | Q2 2015 |
| Samsung Galaxy Tab 4 7.0 | Q2 2015 |
| Samsung Galaxy Tab 4 8.0 | Q2 2015 |
| Samsung Galaxy Tab 4 10.1 | Q2 2015 |
| Samsung Galaxy Note Pro 12.2 LTE | Q3 2015 |
| Samsung Galaxy Note Pro 12.2 3G | Q3 2015 |
| Samsung Galaxy Note Pro 12.2 | Q2 2015 |
| Samsung Galaxy Tab Pro 12.2 | Q2 2015 |
| Samsung Galaxy Tab Pro 12.2 3G | Q3 2015 |
| Samsung Galaxy Tab Pro 12.2 LTE | Q2 2015 |
| Samsung Galaxy Tab 10.1 | Q2 2015 |
| Samsung Galaxy Tab 10.1 LTE | Q2 or Q3 2015 |
| Samsung Galaxy S4 Active | Q2 2015 |
| Samsung Galaxy Light | Q2 2015 |
| Samsung Galaxy S3 | Expected |
| Samsung Galaxy S2 | Expected |
| Samsung Galaxy Note 2 | Expected |
| Samsung Galaxy S4 Active | Expected |
| Samsung Galaxy Note 10.1 2014 Edition | Eligible |
Update Tracker
A TechRadar reports says Galaxy S4 and S3 will get this latest update in early 2015. [Read More]
Recommended Reading
LG Lollipop update
Motorola Lollipop Eligible Phones
HTC Lollipop update