Motorola Mobility finally seeks gears with Droid Turbo as Motorola brand is now back into business. The newly launched Samsung Galaxy Note 4 vs Motorola Droid Turbo will show up an interesting fight as fight of Quad HD phones begins. We go through Samsung Galaxy Note 4 comparison with powerful Motorola Droid Turbo.
Moto Maxx is rumored to be Verizon Droid Trubo global variant means that Moto Maxx will lock horns with Galaxy Note 4 international version.
Samsung Galaxy Note 4 vs Motorola Droid Turbo
Definitely both are among the best smartphone manufactured by the company so far and people want's the best of the bests available. I hope the comparison of Droid Turbo vs Galaxy Note 4 will show you some clear indications what's in your mind.
Comparison: Design | Processor | Camera | Software & Storage | Battery Life | Prices | Conclusion
Design, Display
When comes to design, each of them has its own take on premium and both tried to stay away from plastic, did iPhone make them think of it? Both of them have different build materials as the Moto has metal chassis with Kevlar black and also the ballistic nylon back variant was also announced. On the other hand, Samsung's latest phablet feels premium from its predecessor as it employs metal frame but faux leather is still in the picture on the rear side.
Definitely Droid Turbo can't match up Note 4 when it's comes to display size as the Samsung Note 4 is with 5.7 inch display while Moto phone here is with 5.2 inch display. Note 4 is much thinner at 8.5 mm while Droid Turbo still bear yester years 11.2 mm thickness. If you are a fan of slim phones then you should definitely check out Oppo R5 measuring 4.85 mm thickness as we know it as the world's slimmest phone.
Both the phones incorporate AMOLED display which provides high contrast and good viewing angle and also they have Gorilla Glass 3 to protect the display from accidental scratches.
Processor
Both phones here are powered with latest breed of Qualcomm Snapdragon 805 processor and both also adds Adreno 420 GPU, 3 GB of LPDDR3 RAM. You will not experience any issues during multi-tasking.
Camera Comparison
Both are camera centric phones but Droid Turbo definitely looks better specs wise on paper. Droid Turbo is boosted with 21 mega pixel sensor with aperture of f/2.0 and accompanied by dual LED flash. On the other hand Note 4 is with 16 mega pixel shooter with f/2.2. Both are capable of 4K video recording (Note 4 at 30fps while Droid Turbo at 24fps).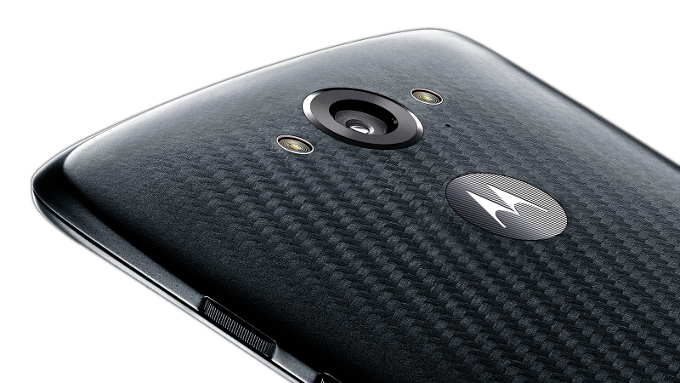 Samsung's phablet outscores Droid Turbo in terms of front facing camera. Motorola were happy adding 2 mega pixel shooter on front camera for occasional selfie while Samsung pegs up with 3.7 mega pixel shooter.
Software
Both are powered with Android 4.4 Kitkat out of box and Android 5.0 Lollipop is coming up soon. The Note 4 comes with traditional TouchWiz UI while Droid Turbo maintains stock like experience apart from adding Motorola specific apps.
In Lollipop race, Droid Turbo will definitely win to get this update early, maybe in November/December 2014.
Battery Life
The Quad HD phablet took us by surprise as we thought it might not give out better battery life than its 1080p predecessors. Infact Galaxy Note 4 and Droid Turbo gets better with battery life.
The Galaxy Note 4 is powered with 3220 mAh Li-ion battery scores 8 hours of battery life or one and a half day normal usage life. That's look Ok but Droid Turbo surprised us with 3900 mAh battery for the 5.2 inch phone providing two days of normal usage life. The Droid Turbo also includes Turbo Charger which can charge your device for 8 hours of battery life for a little of 15 minutes charging. I consider that as a revolution in smartphone batteries.
| | | |
| --- | --- | --- |
| Features | Motorola Droid Turbo | Samsung Galaxy Note 4 |
| Display | 5.2 inch AMOLED | 5.7 inch AMOLED |
| Pixels Density | 565 PPI | 515 PPI |
| Resolution | 1440 x 2560 pixels | 1440 x 2560 pixels |
| Processor | 2.7 GHz Snapdragon 805 | Snapdragon 805 |
| RAM | 3 GB | 3 GB |
| GPU | Adreno 420 | Adreno 420 |
| Software | Android 4.4 Kitkat | Android 4.4 Kitkat |
| Lollipop Update | Yes | Yes |
| Camera | 21 MP | 16 MP |
| Front Camera | 2 MP | 3.7 MP |
| Battery | 3900 mAh | 3200 mAh Li-ion |
| Storage | 32 GB/64 GB Internal Only | 32 GB + MicroSD Card Slot |
| Price | $199.99, $249.99 | $299.99 |
Conclusion
Definitely both are amazing smartphones with its own merits and highlights. You can't go wrong with neither of them as they are best phone ever produced by respective manufacturers powered with industries best hardware and that leads to personal choice on what you want – 5.7 inch phablet or just over little of 5 inch display.