The Samsung Galaxy Note II N7100 is a wonderful smartphone available worldwide and its popularly known device. In response to Samsung, LG Electronics have recently launched Optimus G Pro mobile coming out with nearly same size display.
Both the smartphone have display sizes which place these device a little higher than the smartphone and lower end of tablet PC size ranges. More typical both Galaxy Note II and Optimus G Pro are called as phablet phone or hybrid of phone and tablet PC.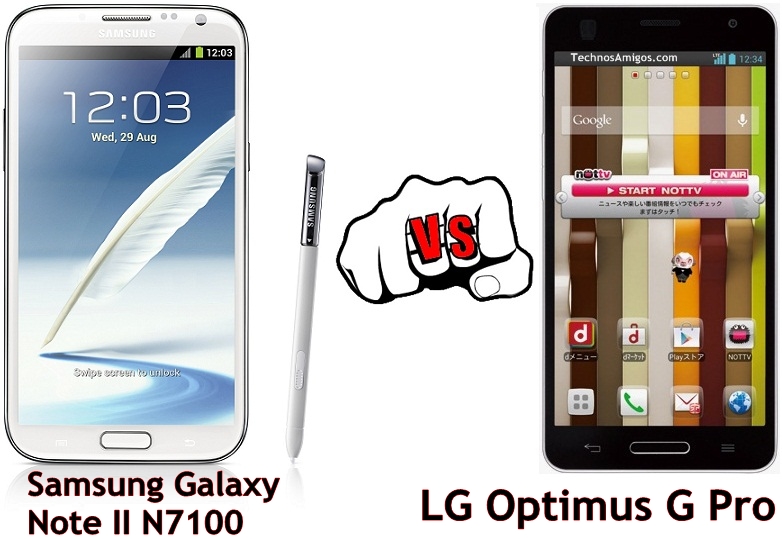 Here in this article we go through detailed comparison of Samsung Galaxy Note II vs LG Optimus G Pro smartphone.
Display Comparison
Most of the comparison are tailored down to display and processor. If you the phone comes good in these two features, the rest are minor to compare. We love Super AMOLED display brought by Samsung on Galaxy Note II but on the other side we just can't simply judge AMOLED display is better than IPS technology.
Both the phones have 5.5 inch touchscreen display measured diagonally and almost look identical. Recently launched Optimus G Pro provides a resolution of 1920 x 1080 at 401 ppi pixel density which is at par than Note II with 1280 x 720 pixels resolution and 267 ppi pixel density. So in the display compartment, Optimus G Pro comes good.
Processor Unit Comparison
When it comes to processor, the second most important of smartphone, its not doubt that both flagship phablet phone are with quad core processor but Optimus G Pro is clocked little higher with 1.7 Ghz Krait Qualcomm Snapdragon S4 Pro than 1.6 Ghz Cortex A9 found in Galaxy Note II. Both the phablet phone includes 2 GB RAM capacity.
Samsung has used Mali 400MP GPU unit for Note II whereas Adreno 320 GPU chipset is seen on Optimus G Pro.
OS Version
Galaxy Note II was supplied with Android 4.0 Ice Cream Sandwich version when it was launched but later on it was updated to Android 4.1 Jelly Bean version. The same Android version can be found on Optimus G Pro as well.
Camera Comparison
Coming to the camera unit, LG Optimus G Pro is quite better and providing stunning picture capturing capabilities with 13 mega pixel camera. Rear side camera can record 1080p full HD videos at 30fps and flash light can be used while recording videos as well. Photo capturing resolution is 3264x2448 pixels.
Galaxy Note II still includes 8 mega pixel camera same as that of Galaxy S3, Galaxy Note phone. It provides 1080p HD video recording at 30 fps and image resolution of 3264x2448 pixels pixels.
Common camera features includes auto focus, LED flash, geo-tagging, face detection, image stabilization.
Battery Backup Comparison
The battery of a smartphone is quite essential and important parameter. Galaxy Note II includes 3100 mAh Li-ion battery whereas Optimus G Pro is with 3140 mAh Li-Polymer battery. Samsung counterpart provides a talk time of 35 hours on 2G and 16 hours during 3G, standby time of up to 980 hours on 2G and up to 890 hours during 3G.
LG counterpart provides nearly the same battery life.
Storage Comparison
Galaxy Note II comes in three different storage options of 16/32/64 GB whereas Optimus G Pro is with 32 GB internal memory. Both have a micro SD card slot supporting 32 Gb of micro SD card slot.
This tablet depicts the easy understanding for you showing the major differences between Note II and Optimus G Pro -
| | | |
| --- | --- | --- |
| Parameter | Samsung Galaxy Note II | LG Optimus G Pro |
| Display Screen | 5.5" Super AMOLED touchscreen display | 5.5" True HD IPS+LCD display |
| Resolution | 1280 x 720 pixels | 1920 x 1080 pixels |
| Pixel Density | 267 ppi | 401 ppi |
| Processor | 1.6 Ghz Cortex A9 Quad Core Processor | 1.7 GHz Krait Qualcomm Processor |
| GPU | Mali 400MP | Adreno 320 |
| RAM | 2 GB RAM | 2 GB RAM |
| Operating System | Android 4.1 Jelly Bean OS | Android 4.1 Jelly Bean OS |
| Rear Camera | 8 mega pixels | 13 mega pixels |
| Front Camera | 1.9 front facing camera | 2 mega pixels front camera |
| Battery | 3100 mAh Li-ion | 3140 mAh Li-Polymer |
| Internal Memory | 16/32/64 GB storage | 32 GB |
| Micro SD card Support | Yes, Up to 32 Gb | Yes, Up to 32 GB |
| Price | $ 700 | < $890 |
Verdict
Although Galaxy Note II is the choice of people, LG has ensured that Optimus G Pro is packed is advanced features than Note II. It wins in display comparison, camera unit and in other compartments it has almost have identical specifications.
Samsung Galaxy Note II still is the market winner with nearly 10 millions units sold worldwide. Such results will be too hard for Optimus G Pro to achieve. Finally Optimus G Pro is with better specs, but Galaxy Note II is known for better resale value because of the brand.
We would like to ask our readers, which smartphone will you choose to buy between Galaxy Note II vs LG Optimus G Pro? Let us know your answers via comments section included below.