Samsung Galaxy Note Pro & Galaxy Tab Pro will be launched at CES 2014. Check reports, live Samsung CES press conference.
While we were expecting Samsung Galaxy Note Pro and Galaxy Tab Pro at an exclusive Samsung UnPacked event at Mobile World Congress, reports from Engadget says that banners are put up over night revealing the upcoming Galaxy Pro tablets. Both of these tablets have passed the FCC Approval last month itself and reports of CES 2014 launch are certain.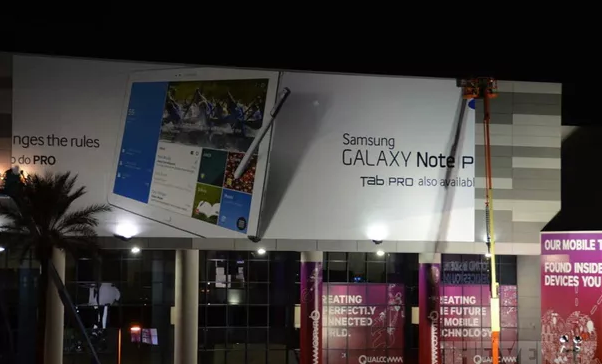 Advertisements
Consumer Electronics Shows will being from January 7, 2014 and Samsung is holding a press conference to announce Ultra HD LED TVs and other products. But it looks like that Samsung will also reveal two new tablets during this press conference as well. These tablets in future will be updated to Android 4.4 Kitkat, that's for sure!
Samsung Galaxy Note Pro Specs –
Advertisements
Display: 10.1 inch Ultra HD display
Processor: Exynos 5 octa core processor
Software: Android 4.3 Jelly Bean OS
S-pen support
Samsung Galaxy Tab Pro Specs –
Display: 8.4″ touchscreen display
Processor: Exynos 5 octa core processor
Android 4.3 Jelly Bean OS
240 x 219 x 128 mm
So stay tuned for CES 2014 starting tomorrow!