Samsung Galaxy S4 LTE I9505 gets Android 4.3 Jelly Bean update bring Galaxy Gear support. Check S4 Android 4.3 update features, improvements.
Own Samsung Galaxy S4 but missing support of what you can do with Galaxy Gear? You no longer need to wait as Samsung has officially rolled out the 4.3 Jelly Bean update to Galaxy S4 GT-I9505 Android phone today. This update brings a number of improvements and enhancements, importantly it brings the support of Galaxy Gear to its full.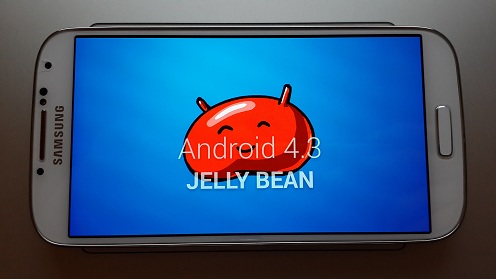 Currently this update is only available to Galaxy S4 LTE with Qualcomm Snapdragon 600 processor and by next week this update will be rolled out to S4 devices with Octa-core processor. Also this update is available for users in Germany starting from today and will be available for all the International versions as well. Keep checking on your phone, it might happen any time from now on.
Features & Improvements
OpenGL 3.0 Support
Bring the GALAXY GEAR Support
TRIM Support (Makes the device much faster)
ANT+ Support vSamsung KNOX Implementation (KNOX bootloader and dedicated application)
Samsung Wallet comes pre-loaded
Improved RAM management
Improved Display colour reproduction (Display looks much sharper than before)
Improved TouchWiz Launcher (Much less launcher redraws and less lag)
New Samsung Keyboard
New Samsung Browser (Full screen by default, new tab interface and more)
New Reading Mode (Optimises display for reading, used by only a few specific applications)
New Camera firmware
Minor UI tweaks (Contacts app, Flashlight Widget, dialog boxes etc)
You can update your phone via Samsung KIES or via Over the Air update.