And after Samsung Galaxy S4 availability in United States, United Kingdom details, it's time to get exclusive pre-order and details on exact pricing of the device. With unlocked device priced above $700, telecom operators have come up with budget pricing of the next Galaxy phone. Samsung Galaxy S4 GT-I9500 the Life Companion will be available for pre-order from April 16 in United States via both AT&T and US Cellular.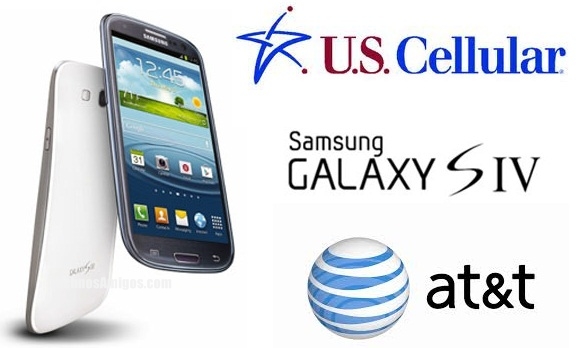 US Cellular Samsung Galaxy S4
US Cellular is schedule to the sale device at the above pricing & two year agreement along with a monthly plan to choose. Considering that, it's very budget pricing set for Galaxy S4, expected to break all the records including Apple iPhone as well.
US Cellular monthly plans starts from $ 40 per month and users need to choose atleast one plan with Galaxy S4.
AT&T Samsung Galaxy S4
From the Consumer Blog at AT&T, news team confirmed that AT&T will bring the exclusive pre-order page for Galaxy S4 smartphone starting from April 16th, 2013. Users need to sign up two year agreement with a pricing of $249.99.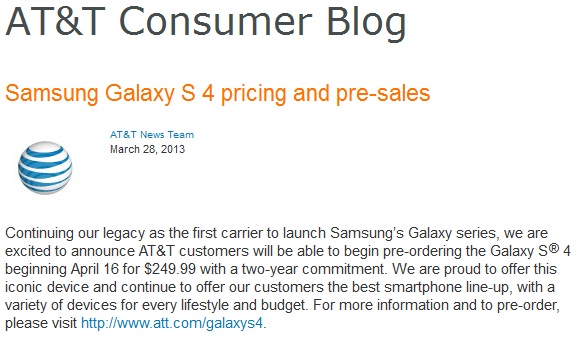 Check AT&T listing of Samsung Galaxy S4
Samsung Galaxy S4 will also be available via Verizon Wireless, Sprint, Cricket Wireless & T-Mobiles as well. Their respective pre-order page will soon be available and keep check Technos Amigos for further information.