Samsung Galaxy S5 Spigen Case Confirms Two Variants according to the reports on Amazon listing.
We all are waiting for Samsung Galaxy S5 official announcement and dates looks to be pretty near as Samsung has officially teased down UnPacked 5 even for Galaxy S5, the next Galaxy phone debut. So we all are waiting for Galaxy S5 debut, it's a known rumors. Adding more interest to the topic, Galaxy S5 will arrive in two different variants as purported image on Amazon of Galaxy S5 Spigen cases lists out two different variants of the device.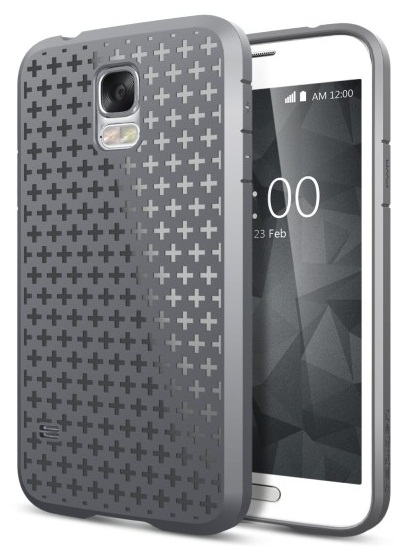 Amazon is a popular eCommerce site and Spigen case are even more popular cases for branded phones. Yet to launch Galaxy S5 has Spigen case listed on Amazon arriving on April 15 confirms the design of Galaxy S5. Both leaked Galaxy S5 variants features rear camera with dual LED flash and the cases sees off Auto focus printed below the LED flash and Spigen brand name vertically. We are expecting two variants of Galaxy S5 – one with Samsung Exynos 6 and other with Qualcomm Snapdragon 805 chipset.
Previously rumored, Galaxy S5 is with 5.24 inch AMOLED screen with 2560 x 1440 pixels resolution. Furthermore, Galaxy S5 will split down in two variants of 32 GB and 64 GB internal memory and powered with 3200 mAh battery. Camera wise, SGS 5 will come out with 16 mega pixel rear facing camera and 3.2 mega pixel front facing sensor.
Wait till the official Samsung UnPacked event on Monday, 24 February 2014 at Centre Convection International, Barcelona where Mobile World Congress will start off.