Its sad that Samsung Galaxy Y Pro B5510 was excluded from the list of Android 4.0 Ice Cream Sandwich update and all the updates of this phone will be stayed to Android 2.3 Gingerbread version. We all know that Android 2.3.6 Gingerbread is the upgraded version of Android 2.3.5 and this brings us some of the interesting features as well. While there would be no official updates for Galaxy Y Pro phone to Android 4.0 ICS or higher, here we port the smartphone with Android 2.3.6 Gingerbread official release.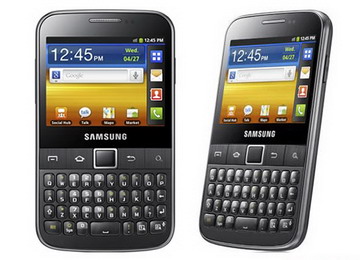 Although this is an official firmware release by Samsung we would be using the ODIN flashing tool to bring the Android 2.3.6 Gingerbread version on your phone. We have gone through step by step procedure and the precautionary measures you should take in to account.
Precautionary Measures
Before you begin to update your phone, follow these pre upgrade instructions –
You should have proper USB drivers installed on your PC for perfect Galaxy Y Pro connections.
You should take backup of your device. Individually you can also backup apps, data, SMS, Call Logs if you want. Also if you want you can back WhatsApp messages as well.
You should ensure that USB debugging is enabled on your phone. You can do it by going through Menu > Settings > Applications > Development and then see USB Debugging is enabled or not.
Finally ensure that you have charged your phone up to 100 % of your battery life.
Update Procedure
Follow the instructions carefully without missing any steps mentioned here –
Download the Galaxy Y Pro Android 2.3.6 XXKK3 firmware on to your PC and then unzip the download files. You will see few files with CODE, MODEM, CSC, .PIT name in it.
Also download the Odin Flashing tool required for updating your Android device. Install it on your PC and let it be open on your PC.
Switch OFF your phone and then go to Recovery Mode. This can be done by holding the Volume Down button along with Home button and Power button altogether at once for few seconds. You will then see Green Robot on display.
On your go through Download mode, connect your phone using the USB cable to PC.
As soon as you connect your device, the ID:COM port box turns yellow which means successful connection is identified.

Now it's time to select the files which you have downloaded in first step.
Click on PDA on Odin and then select the CODE file name.
Click on Phone to select MODEM file in its name. Ignore if not found.
Click on CSC and then select file with CSC name in it. Ignore if no such file exists.
Click on PIT and select the .pit file. Ignore if not found.

Also on your ODIN tool, the options like Auto Reboot and F.Reset Time should be selected.
Now it's time to flash your phone with above said Android version. Click on START button in ODIN flash tool which will actually start the procedure of updating your device.
Your phone would be automatically restarted to take the settings into effect and it will take few minutes of time first boot this device with new XXKK3 firmware.
So with that you have updated your Samsung Galaxy Y Pro smartphone with Android 2.3.6 build XXKK3 firmware. You can verify on your phone by going through Settings > About Phone. If you encounter any problem or issue, do drop us a comment below. As we use LiveFyre commenting system, you can use your Google or Facebook or Twitter Account to connect. If you have updated your phone, sharing this piece of article with your friends will help us to spread a word.