Flipkart.com a #1 mobile phone online retailer in India has opened doors to sellers by announcing Flipkart Marketplace. You might have seen Amazon India venture by name Junglee.com going stronger and Flipkart looks to adopt the same strategy of opening up the deals on various products to sellers on multiple brands. Going further on Flipkart consumers can compare various sellers and get best pricing of desired product which they are looking to purchase.

Flipkart Seller
Flipkart generates around 10 lakhs page views per day and atleast access by one lakh people in India once a day. Flipkart has seen a tough competition by Junglee.com and before its too late for them, they have adopted the right strategy.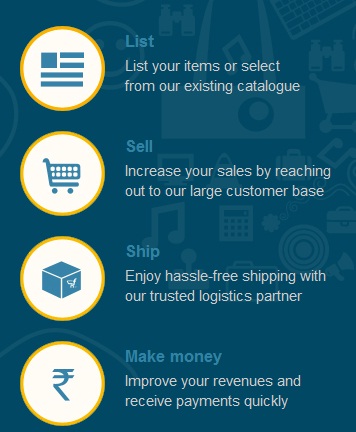 Flipkart Marketplace is has advantage to both seller and buyers. We have listed them out here –
Benefits to Buyers via Flipkart Marketplace
Users will enjoy the same Cash on Deliver and the EMI options along with replacement policies intact.
Users will have more choice on same product accordingly to pricing of product, seller location.
Keeping up with customers, Flipkart will come up with protection program to resolve any complaints.
Sellers are selected based on the rigorous testing process and will only sale genuine products.
Seller reputation will identity the trust level so that users get more understanding of the product.
Benefits to Sellers via Flipkart Marketplace
Sellers can increase their sales by partnering up.
They can reach large customer base throughout India.
Sellers should list item on the existing Flipkart catalog.
Sellers don't worry of shipping as it will be taken care by Flipkart's trusted logistics partner.
Easy way to maximize your earning potentials.
To begin with, Flipkart has already tied up with 50 sellers across India selling books, consumers electronics items, clothes, accessories, garments. They have also open up for any seller invitation. If you want to be seller at Flipkart Marketplace just mail at [email protected] to receive seller invitation.