This guide explains the process on how to setup password lock on your Firefox OS phones and tablets.
You might have heard about the lightweight and awesome version of Firefox OS for mobile phones which will give you a comprehensive range of features and functionality to enjoy. It would have been much better to include this brilliant OS in Asha series phones of Nokia rather than running a new OS based on Java which does not offer such convenience and easy UI for the valued customers. You will find here the process of setting up a password for your new phone, running on Firefox OS so that your handset remains safe and protected from unauthorized access.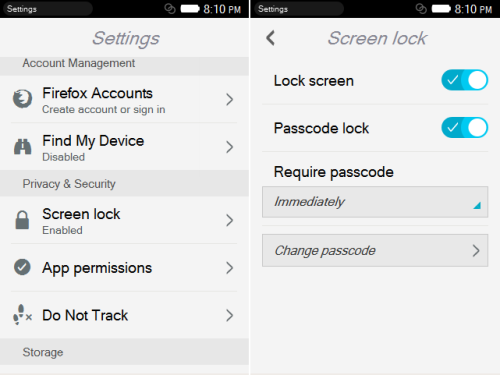 Steps to set up Passcode
Tap on the gear icon present on home screen and open Settings.
Navigate to Privacy & Security option and tap on Screen Lock facility by scrolling down the list.
You should now tap on the option of Passcode Lock.
You will now have to type your 4-digit passcode in both the empty fields and tap on Create to set up the new passcode for Firefox OS phone.
This beautiful OS also offers you the option to set up the time period after which you want the phone to ask for this passcode just after lock key is pressed. In fact, it will ask for the passcode immediately after pressing the lock key which will require you to enter your passcode every time you unlock it.
Method to Change Passcode
In order to change the current passcode, simply tap on Change passcode and enter the current passcode along with new passcode in the empty fields.
Method to Remove Passcode
If you are not interested in getting passcode every time you unlock the phone, simply slide the knob in front of Passcode Lock to Off section which will remove this option.
By setting up the Passcode for your phone running on Firefox OS, you will be able to protect your handset from unauthorized access.
Compatibility: Intex Cloud Fx, Spice Fire One, Alcatel Firefox phones, LG Fire Web and other Firefox running phones.