Indian R&D team confirms the Android 5.0 Lollipop rollout to Sony Xperia Z3, Z3 Compact and Xperia Z2.
Sony Mobiles few days back disappointed more customers than they made happy with the announcement that only Xperia Z series devices will be getting through the Android 5.0 Lollipop update. They will be asking is it so hard to deliver the software update?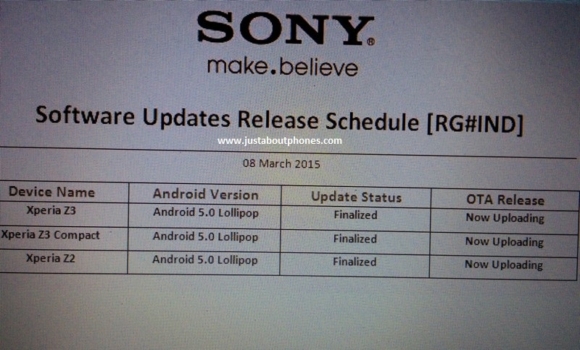 And with no more promises breaks, Sony Mobiles has announces the availability of Android 5.0 Lollipop update to Xperia Z3 Compact, Xperia Z3 and Xperia Z2, so called as the Xperia Z Series. This update however happens to be regional as it's reported in India. However none of the users has confirmed the availability. This news comes from a R&D team based of India. The update to Xperia Z3 weighs 630 MB while the same for Xperia Z2 weighs 518 MB.
Since this is a phase wise rollout, it will be available in US, UK, Canada, Australia, Africa and the carrier variant in coming days.
Via: JustAboutPhone